MARIAH CAREY GETS THE COMIC BOOK TREATMENT IN TIME FOR THE HOLIDAYS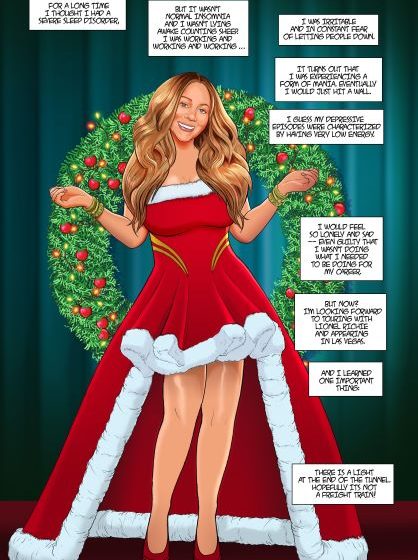 TidalWave Comics is proud to announce the addition of a comic book focusing on Mariah Carey to its popular "Female Force" series. "Female Force: Mariah Carey" will be released in time for the holiday season this week.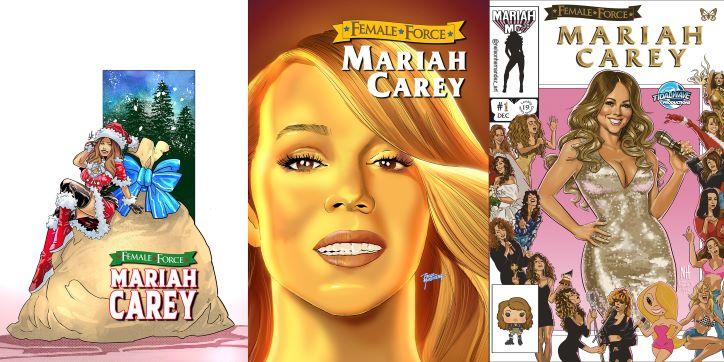 Photos courtesy of TidalWave Comics
"Female Force: 
Mariah Carey,
" 
written by Michael Frizell, with art by Pablo Martinena, is a 22-page comic book available in print and digitally on multiple platforms. The book will be available in hardback with a cover by famous comic book artist Joe Phillips and paperback with a cover by Nelson Hernandez.
The book will also be available in a 28-page expanded holiday edition featuring a themed cover by Marvel Comics artist Yonami.
American singer and songwriter Mariah Carey is known for her dynamic onstage presence, perennial "All I Want for Christmas is You," and her impressive five-octave range. Often called the Queen of Christmas and the Songbird Supreme, Carey's rise to stardom was not without pitfalls. Read her inspirational story and see why TidalWave includes her among the other dignitaries featured in our famous Female Force series.
"We wanted to time this with the world celebrating the self-proclaimed 'Queen of Christmas.' As fans of Mariah Carey's since day one, we are excited to have her be part of the Female Force line of biographies. She has an inspiring story, and to release it for the holidays seemed to be a perfect fit", said Publisher Darren G. Davis.
"I grew up in the 80s, and Mariah's sound is synonymous with that era's music, " said writer Michael Frizell. "I'm proud to have been asked to pen this biography, and I hope that readers learn something new about her."
The "Female Force" imprint features prominent and influential authors, business executives, entertainers, journalists, politicians, and activists. The latest biography comic book joins TidalWave's ever-growing library of more than 200 comic book biographies.  — Previous titles have profiled other musicians such as Dolly Parton, Loretta Lynn, Barbra Streisand, Olivia-Newton John and more.
The biographical comic series has drawn a firestorm of media attention, including features on "The Today Show" CNN, MSNBC, and FOX News, and in Time and People magazines.
TidalWave Comics' vast catalog of titles can also be downloaded digitally from Kindle, iTunes, EPIC!, Madefire, Izneo, ComiXology, Global Comics, DriveThru Comics, Google Play, Overdrive, Library Pass, Biblioboard, Nook, Kobo and wherever eBooks are sold.