Mayor Brett Smiley Announces Return of EAT, PLAY, LEARN PVD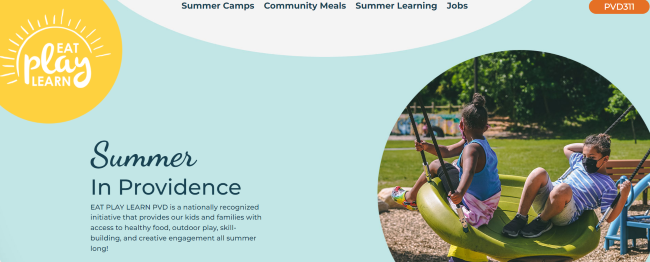 Providence families encouraged to learn more and sign up for summer programs at Summer Opportunities Fair, April 29th at Providence Career Technical Academy
PROVIDENCE, RI – Mayor Brett P. Smiley was joined by Providence Public Schools Superintendent Javier Montañez, Inspiring Minds Executive Director Melissa Emidy, a 2021 and 2022 Providence summer jobs recipient Dallana Arriaza, Squadlocker Founder Gary Goldberg and community partners to announce the return of Providence's summer program,  EAT, PLAY, LEARN, that offers free summer meals, quality recreation opportunities and summer employment. Families can sign up online beginning April 29th and are encouraged to attend the Summer Opportunities Fair happening at the Providence Career and Technical Academy (PCTA) on that day from 10AM to 2PM for more information on these programs.
"We know that what students do in the summer and outside of school can have big impacts on their long-term academic success. That's why I am proud to be working with so many community partners to provide Providence families with quality summer programming opportunities that will provide youth enriching educational experiences," said Mayor Brett P. Smiley. "I want to encourage our families to join us at the Summer Opportunities Fair happening April 29th for more information on these programs."
EAT
Similar to previous years, the City of Providence Parks and Recreation Departments will serve free and nutritious meals to all youth ages 18 and under through our Summer Meals Program, which ensures children receive healthy meals when school is out. This summer, Providence will serve lunches at 33+ neighborhood schools, parks, recreation centers, pools and waterparks. Meal service will run June 26th to September 1st , Monday through Friday at locations and times listed online. During inclement weather and throughout the summer, times and locations may vary or change, so parents and families should call 3-1-1 during business hours to find a summer meal site in their neighborhood.
PLAY
Recreation centers will once again offer all-day summer recreation camps starting at just $5/week. Providence will be offering youth 1,175 slots to sports camps, 690 slots to day camps and 70 slots to specialty boating and biking camps. In addition to recreational programming, Providence residents are encouraged to explore Providence parks through PlayCorps, Fitness in the Parks and the City's Park Finder. Providence families can sign up online for recreational camps on April 29th or attend the Summer Opportunities Fair for more information.
Providence Community Libraries will be offering literacy programming throughout the summer including a Mobile Library aimed at helping enhance reading skills. Elementary students are encouraged to use the Passport to Summer Learning they received in school, or download their own, to track their summer reading.
"I'm proud to join Mayor Brett Smiley, City leaders and our community partners in launching another year of robust summer programming that can help get our students on the path towards success," said Superintendent Javier Montañez. "Providence parents should fully engage in the numerous opportunities here for students to catch up, strengthen their skills, and learn something new through PPSD and the EAT, PLAY, LEARN initiative."
LEARN
Providence's Summer Learning Program will run Monday through Friday from July 10th to August 17th. The program is free to families, and breakfast and lunch will be served daily. Transportation will be provided to eligible students. Elementary and middle school students will have the opportunity to accelerate their growth through active and project-based learning in reading, math, science, and enrichment classes. After April Break, families can register at their schools or find more information at www.providenceschools.org/summer.
Mayor Brett Smiley is committed to increasing earn and learn opportunities as a way to provide students with real life experiences and employment. That's why this year, the City is once again offering 700 jobs to Providence youth starting at $15/hour through the One Providence for Youth program.  Employment opportunities through One Providence for Youth partners will open April 29th and the last day to apply is June 23rd. Summer job applications for the City's Recreation and Parks Department are open now until May 27th. Youth can find out more about summer employment at the Summer Opportunities Fair happening April 29th and can apply online at www.PVDSummerJobs.com.
"I've been part of the Inspiring Minds Explorers program for two years, and it has been an amazing opportunity to gain experience in the education field while also impacting my community," said Dallana Arriaza, who worked at Inspiring Minds last year as part of their KidsBridge Summer Learning Program.
"It's not just a summer job to our youth employees, but also a supportive environment that will be there for them, summer after summer, and as they enter college," added Inspiring Minds Executive Director Melissa Emidy.
In support of this year's EAT, PLAY, LEARN program, Squadlocker has donated 700 backpacks that will be used as part of Providence's food take-home program. SquadLocker is a Rhode Island-based company that mass-customizes decorated sports apparel and provides innovative online tools which makes it easier for coaches and league administrators to manage athletic apparel purchasing for teams. The first thirty Providence families and youth to attend the April 29th Summer Opportunities Fair will receive a backpack.
"We are committed to making a positive impact in the communities where we work and live," said Squadlocker Founder Gary Goldberg. "SquadLocker is proud to be a part of the "Eat, Play, Learn initiative that provides children and families access to nutritious food, engaging activities, and opportunities to develop new skills throughout the summer. We believe that investing in the well-being and growth of our community's young people is essential for building a bright and vibrant future."
More information on summer meals, recreation opportunities and park programming can be found at www.EatPlayLearnPVD.com. For questions, contact the Mayor's Center for City Services at City Hall by dialing 3-1-1 or by downloading the PVD311 mobile application now available on the Apple App Store and Google Play.