Mayor Jorge Elorza Endorses James Diossa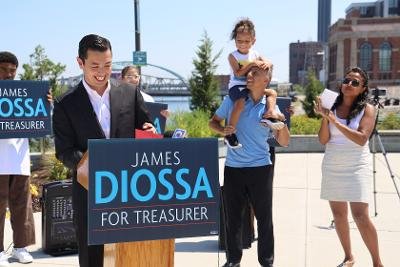 Three additional Providence elected officials also announce their endorsements
Providence, RI, — Providence Mayor Jorge O. Elorza today endorsed James Diossa for Rhode Island General Treasurer. First sworn in as Mayor in January 2015, Mayor Elorza has served as the chief executive of Rhode Island's Capital City for the past seven and a half years. In that time, the Renaissance city has improved as a hub of innovation, arts, and culture.
"I was always impressed with James from the very beginning," Elorza said while speaking about meeting Diossa when he was a Central Falls Councilman. "He was curious, ambitious in the good sense of the word and he was willing to roll up his sleeves and do the work to create the kind of communities that we want to be a part of."
Mayor Elorza spoke about James' experience leading Central Falls out of an inherited bankruptcy to the comeback city and investment grade status, how James can build coalitions with many from diverse perspectives, and that James brings youth, energy, and new ideas to a critical state office.
"I am confident James will be the Treasurer that our state needs," Elorza said.
Mayor Elorza is the seventh mayor to endorse James for General Treasurer. James previously announced the endorsement of Pawtucket Mayor Don Grebien, Johnston Mayor Joseph Polisena, East Providence Mayor Bob DaSilva, North Providence Mayor Charles Lombardi, Central Falls Mayor Maria Rivera, and Cumberland Mayor Jeffrey Mutter.
Also announcing their support for Diossa's campaign today from Providence include: State Representative Marcia Ranglin-Vassell and Providence City Council President Pro Tempore Pedro Espinal (Ward 10), and Councilors Mary Kay Harris (Ward 11) and Katherine Kerwin (Ward 12).
They join the Providence Democratic City Committee, the Providence Firefighters union, Senator Maryellen Goodwin, Senator Josh Miller, Senator Ana Quezada, Representative Grace Diaz, and Representative David Morales, who all represent distinct communities within our capital city.
There is "no doubt that running for this important office is exactly where I need to be to help my state, our state, be the best for all of us today and for generations to come," Diossa remarked. The Treasurer's Office has a significant role in helping everyday Rhode Islanders – including the crime victims compensation fund, financial literacy and college bound programs, unclaimed property, and the low-cost financing options from the Rhode Island Infrastructure Bank. James said he will use his experience and partnerships to keep and expand these programs.
"That is what it takes – partnerships and experience – and I have both," James concluded, "which is evidenced with the endorsements today, as well as the many who endorsed me previously. I won't let you down."