Mayor Smiley and Colonel Perez Announce Recruitment Drive for 72nd PPD Training Academy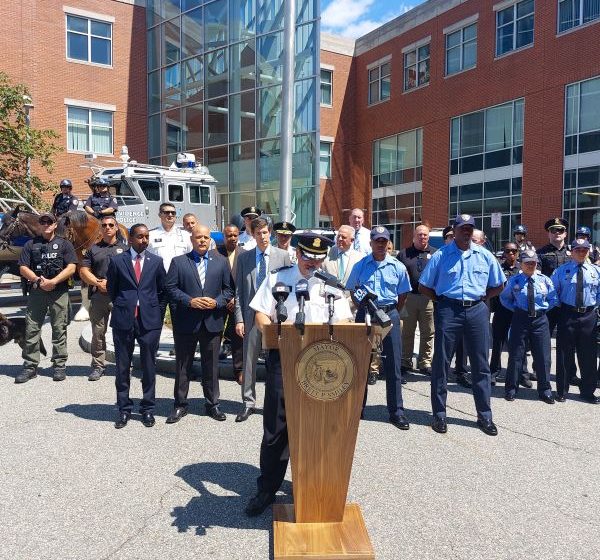 Providence, RI: Mayor Brett P. Smiley, Colonel Oscar L. Perez, Jr., City Council Pro Tempore Juan Pichardo, Providence Police Recruit Elijah Perry, Providence Police Recruit Jose Cortorreal, members of the Providence Police Department and community members joined together today at the Providence Public Safety Complex to announce the start of the recruitment drive for the 72nd Providence Police Academy at 2:00 p.m.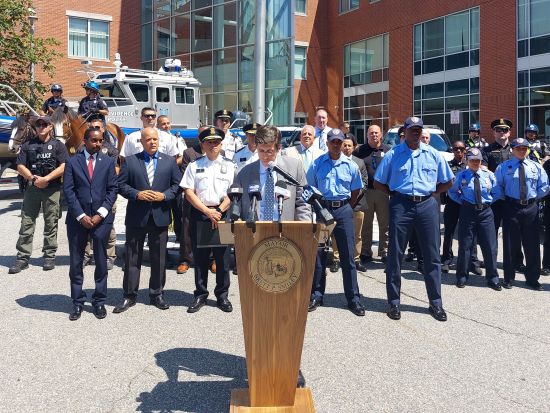 "Serving as a police officer in Rhode Island's capital city, the largest and most diverse department in the state, is an honor that can only be attained by the best and brightest individuals," said Colonel Perez. "In partnership with our community partners and leaders, we strive to have another academy composed of individuals who reflect the community that they serve."
Through a new grassroots approach for recruitment, police officials from the Training Bureau will work side by side with the Providence Police Community Engagement Bureau to reach out to possible recruits through new innovative ways and gather a diverse and highly qualified group of the next generation of outstanding Providence Police Officers.
"I am excited to be taking this next step in improving our local public safety, by opening a new police academy that will help us better support the needs of our community," said Mayor Brett P. Smiley.
"We have one of the best police departments in the country, that everyday do a hard job with exceptional professionalism. I encourage Providence residents and those curious about starting a fulfilling career in law enforcement to apply today."
Following a competitive application process, the Providence Police Department Training Academy is composed of seven comprehensive phases: Physical Fitness Assessment, Written Examination, Oral Interview, Background Investigation, Psychological Evaluation and a Physical Fitness pre-test prior to entering into the police academy.
The academy is approximately 24-weeks long and includes over 812 hours of training in law enforcement best practices including daily physical fitness training, defense tactics, firearms training, criminal
law procedures, community policing, investigations, crisis response, cultural competency and emergency vehicle operation. Recruits also receive a three-day in classroom training from members of the Nonviolence Institute focusing on techniques and principals surrounding de-escalation and implicit bias training.
"Keeping our streets and neighbors safe is a priority for the City Council. That's why my colleagues and I wholly supported a police academy in the new budget," said Councilman and President Pro Tempore Juan M. Pichardo (Ward 9). "Adding more qualified and diverse police officers to the ranks is necessary for maintaining a high-performing department but also to ensure a quality of life in the city that all of our residents deserve."
"As the 71st Training Academy recruits embark on their last several weeks of rigorous training, I want to commend them on their accomplishments thus far," said Director of Training Lt. Michael Fallon.
"Recruits Jose Cortorreal and Elijah Perry, who are here with us today, hope to encourage a diverse group of individuals to apply for the upcoming academy as to further the city's ongoing efforts towards building a robust class that is representative of the
community and citizens that they will serve."
The application process for the 72nd Providence Police Training Academy will be open through October 2023. Applications must be completed online only and the application fee must be paid at the time of submission to ensure the applicant will be notified of the next steps related to the recruitment process.