Mayoral Candidate Gonzalo Cuervo releases bold, comprehensive economic vision for Providence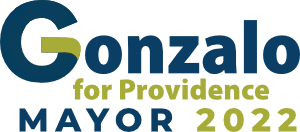 Providence Mayoral candidate Gonzalo Cuervo was joined today by supporters on the steps of City Hall where he announced a sweeping vision for Providence's future. Cuervo, a former South Side small business owner, top Providence city administrator, and Rhode Island Deputy Secretary of State, drew on his years of experience in public service and diverse community relationships to paint a picture of urgency and lay out a broad economic development agenda.
"Many of the challenges that Providence continues to face, including housing affordability, poor performing schools and public safety, are underscored by a widening opportunity gap that impacts us all, regardless of zip code," said Cuervo. "As Mayor, I will prioritize closing that gap and lifting thousands of families into the middle class through targeted strategies and investments in Providence's greatest asset: its people."
"Ours is a tale of two cities," he added. "We are a city of world-class institutions, architecture and attractions. A city outsiders fall in love with immediately. But we are also a city of breathtaking inequality. Throughout our city, and in some neighborhoods more than others, there is pervasive poverty. There is hopelessness. We are living the consequences, still, of decisions made decades ago. Those consequences are stifling our potential as a city. As Mayor, I will leverage the City's resources and bring stakeholders together to change this narrative once and for all."
"Gonzalo knows our communities," said Providence Cultural Equity Initiative Founder and long-time community activist Raymond Two Hawks Watson, who introduced Cuervo at the event. "He has been living, working, listening, and leading in Providence for a long time, and he understands what people need."
"My campaign is not about the next four years," Cuervo stated. "It's about the next four generations." His policy platform is organized around the principles of opportunity, resilience, and pride.
In describing "the opportunity for people to live lives of dignity and purpose, with options and room for growth," Cuervo laid out economic policy initiatives such as:
● Collaborate closely with the Governor and legislative leaders to align priorities around economic development opportunities in the capital city.
● Invest in emerging opportunities within the green and blue economies to activate the Port of Providence and create good jobs for Providence.
● Establish a community development financial institution (CDFI) in Providence to serve local businesses and make the city eligible to attract federal resources.
● Require equitable City contracting by expanding and codifying into law the procurement of goods and services from minority-owned, women-owned, and Providence-based businesses.
● Connect BIPOC business owners with capital, technical assistance, and professional support, while ensuring entrepreneurs have the resources they need to start new successful businesses.
● Negotiate with anchor institutions to increase their use of local vendors and suppliers, hire locally, and invest in affordable housing for their workforce.
● Transition away from Tax Stabilization Agreements as the City's default economic development tool.
"Resilience is the ability to withstand challenges through flexibility and adaptability, only to emerge stronger as a result," Cuervo said, pointing to neighborhood-based economic development strategies such as:
● Decentralize the city's Economic Development office by housing small business navigators in each neighborhood to meet and support entrepreneurs where they are, placing them with trusted community partners like community libraries to bring city government programs, third-party small business development resources, and expertise to their doorsteps. The navigators will provide easy access to coaching, connections, capital, and help navigating city permits to any potential or existing entrepreneur.
● Establish a network of experienced local accountants, attorneys, and technical support services providers to support small businesses in developing business plans, securing financing, and growing sustainably.
● Simplify the City's business licensing structure to remove undue burdens on small businesses.
● Eliminate pervasive barriers for businesses, vendors, and developers (e.g. by shortening payment times).
● Develop or partner with existing resources to offer an Entrepreneurs Startup Boot Camp of online courses that provide information on the resources, funding, and technical assistance available in the city. These courses would provide a comprehensive checklist for business success.
● Expand support of key partners such as the RI Black Business Association and the RI Hispanic Chamber of Commerce.
● Create thousands of homeownership opportunities, increase housing stock, and incentivize development at every level and price point by leveraging all of the resources at the city's disposal as well as state and federal resources.
● Regain local control of the Providence Public Schools and focus on long-term solutions centered around active engagement, teaching, and learning that prepare our children for success and entry into tomorrow's Providence workforce.
Pride in Providence is vital to the city's future, Cuervo noted. "Most mid-sized cities across the country cannot compete with Providence's history, architecture, diversity, talent, arts and culture, and institutions. Cities our size spend fortunes creating attractions and developing compelling narratives in the hopes of generating the buzz and sense of place that comes naturally to Providence." His proposals to strengthen and leverage that sense of pride to generate economic activity include:
● Improve city services and operations using technology and public sector best practices and foster a culture of pride, buy-in, and community commitment among city employees. ● Support, elevate, and promote Providence's rich and diverse cultural assets as a lever to generate economic activity and attract tourists to the city.
● Direct the City's Economic Development Office and Department of Arts, Culture and Tourism to partner with stakeholders at every level in developing a comprehensive and diverse marketing strategy around Providence's remarkable culinary, arts, and entertainment venues.
● Support downtown's post-COVID transformation by activating public spaces through programming and infrastructure repairs, providing technical support and financial tools to local small businesses, and investing in the city's tourism industry.
The full platform is available at https://www.gonzaloforprovidence.com/platform and includes eight planks: Economic Development; Housing; Quality of Life; Climate, Health, and Sustainability; Public Safety; Education; Arts, Culture, and the Nighttime Economy; and Transportation and Mobilit