McKee Administration Announces Reopening of HAF-RI Program to Help Homeowners Affected by Pandemic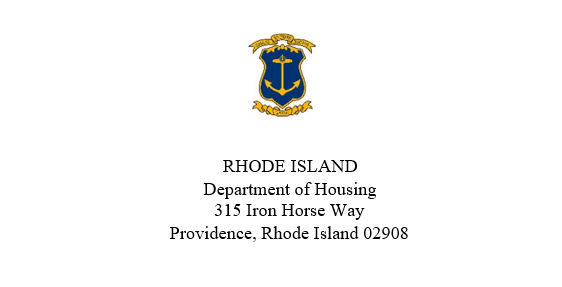 Funds will assist eligible homeowners with housing-related expenses
PROVIDENCE — Governor Dan McKee, the Rhode Island Department of Housing and RIHousing have announced the reopening of the state's Homeowner Assistance Fund – Rhode Island (HAF-RI). The program provides financial assistance to eligible Rhode Island homeowners who have experienced a financial hardship due to the COVID-19 pandemic. Applicants must meet eligibility requirements and income limits to qualify for assistance.
Rhode Island received $50 million for the Homeowner Assistance Fund from the U.S. Department of Treasury under the American Rescue Plan Act of 2021 (ARPA). To date, HAF-RI has provided over $30 million in assistance to help over 1,200 Rhode Island homeowners remain in their home.
"I established the Homeowner Assistance Fund to keep families in their homes and provide much-needed relief for homeowners severely impacted by the pandemic. So far, this program has helped over 1,200 households across the state pay their mortgage, property taxes, utilities, and other housing-related costs," said U.S. Senator Jack Reed, who created the $10 billion Homeowner Assistance Fund as part of the American Rescue Plan Act. "RI Housing estimated it would expend all of its HAF funding last year, but it turns out there is still $12 million in remaining funds available. With many families still facing housing hardships, this federal funding should not be left on the table. So we're spreading the word that the application process has been restarted. Eligible residents in need may apply for up to $50,000 to catch up with their mortgage, utility payments, and other housing-related costs."
The HAF-RI program was suspended in March 2022 due to a high volume of applications. Now, RIHousing has reopened the program to new applications to allow eligible Rhode Island homeowners in need to access the remaining funds.
"These federal funds offer much-needed relief to families in every Rhode Island community who are still struggling to financially recover from the impact of the COVID-19 crisis," said Rhode Island Secretary of Housing Josh Saal. "We thank Senator Reed for his leadership on behalf of the state, and we look forward to working with RIHousing to ensure these funds are accessed and used by individuals and families who need them most."
"Many Rhode Island homeowners continue to struggle with pandemic-related financial impacts," said Carol Ventura, executive director of RIHousing. "For many homeowners, these funds can serve as a lifeline as they work to get housing-related finances back on track."
Homeowners may be eligible to receive up to $50,000 across all HAF-RI programs. Applicants to the HAF-RI program must meet all eligibility requirements and be within household income limits. HAF-RI funds may be used to assist with:
Past owed mortgage payments (mortgage arrears)
Current monthly mortgage payments
Reduction of the principal amount owed on a mortgage
Property taxes
Homeowner/condominium association fees
Condominium association fees
Utility payments
Hazard/ homeowner's insurance
Other approved housing-related expenses
To learn more about the HAF-RI program, see eligibility requirements or to apply, visit https://www.rihousing.com/hafri/.
Homeowners needing assistance submitting an application can contact Tri-County Community Action Agency at 401-583-0075 or the RIHousing HelpCenter at 401-450-1373.