McKee Administration, Community Partners Roll Out Plan for Restarting State Medicaid Renewals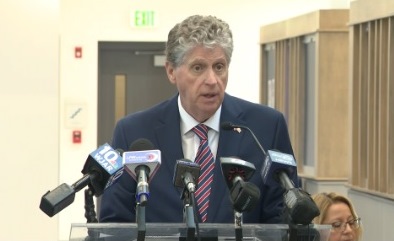 Per federal guidelines, renewal effort begins April 1
PROVIDENCE, RI – Governor Dan McKee, Rhode Island state leaders, and community partners gathered today at the Providence Community Health Center to provide an overview of Rhode Island's plan, per federal requirements, for the state to restart Medicaid renewals beginning on April 1. The state has 12 months to complete this process for the more than 350,000 Rhode Islanders currently enrolled in Medicaid. Renewals will be strategically staggered throughout the next year to help ensure a smoother process.
"Our Administration is committed to working with a broad variety of partners across state government and within our local communities to help impacted Rhode Islanders get the information they need to participate in the renewal process," said Governor Dan McKee.
Throughout the federal public health emergency declared during the COVID-19 pandemic, states suspended the annual Medicaid renewal process, also known as eligibility redetermination. Continuous enrollment ensured that Rhode Islanders receiving Medicaid could maintain health coverage and access to treatment during the pandemic.
As a result of new federal legislation, all states must once again begin required annual eligibility renewals for all Medicaid enrollees. The eligibility renewals process will begin in Rhode Island on April 1, 2023.
"Over the last few years, our state has been able to reach its lowest uninsured rate ever because of a successful whole-of-government effort to enroll eligible Rhode Islanders. By continuing to work together with community partners through the renewal process, we'll ensure that Rhode Islanders who still qualify can retain the health coverage they need without skipping a beat," said Lieutenant Governor Sabina Matos. "We're deeply grateful to our partners across the state who are joining with us to facilitate the renewal process for our most at-risk communities."
The Medicaid renewal process is being led by the Executive Office of Health and Human Services (EOHHS), the Department of Human Services (DHS) and HealthSource RI (HSRI).
"The planning and preparation to-date has been significant. DHS, in partnership with numerous state agencies, and many community-based organizations, continues to focus on the important work ahead beginning April 1, so that we may provide our customers with a renewal process that is easy to understand and effective," said DHS Acting Director Kimberly Merolla-Brito.
The state expects approximately one half of renewals to be passive, requiring no action on the part of the enrollee. In these cases, the state will use information from various data sources to verify continued eligibility.
Medicaid enrollees who cannot be passively renewed must submit required documentation to verify their continued eligibility. These individuals will be broken down into monthly renewals beginning April 1, with the last group of renewals beginning in March 2024. Of note, families with children will not start their Medicaid renewal process until December.
Medicaid enrollees will receive a letter and e-mail from the state this week that outlines the steps of the renewal process.
"Tens of thousands of our patients rely on Medicaid for their health care coverage and it is critically important that they stay enrolled," said Merrill Thomas, President and CEO of the Providence Community Health Centers. "We encourage all Medicaid patients to check their mail in the coming weeks as important information will be shared on maintaining their health coverage."
The state is working with community partners, advocates and other trusted messengers to outreach to the state's most vulnerable populations. Applications have opened for mini-grants to enlist the support of community partners to reach the broadest group of Rhode Islanders, with special attention paid to those most at risk in the renewal process, whether through barriers to awareness or struggles to complete the process fully and appropriately.
"There are Rhode Islanders who may need support through this process because they enrolled in Medicaid for the first time during the COVID-19 pandemic and will experience the renewal process for the first time. While those who received Medicaid prior to the pandemic may need some refreshers about how to complete their renewals." said Medicaid Program Director Kristin Sousa. "We are grateful to our managed care organizations, community partners, advocates and state employees who will assist those who need support."
"Rhode Island's eight federally qualified health centers are ready to support Medicaid eligible beneficiaries throughout this process, from spreading the message to update contact information, to assisting people complete their renewals, and finally to serving as the true primary care safety-net for people who lose coverage, either in the short or long-term, by providing services to anyone, regardless of their ability to pay," said Rhode d Health Center Association President & CEO Elena Nicolella.
Approximately 90% of Medicaid recipients in Rhode Island receive their healthcare through one of three Managed Care Organizations (MCO) – Neighborhood Health Plan of Rhode Island, Tufts Health Plan, and UnitedHealthcare Community Plan of Rhode Island. The MCOs are working closely with the state to ensure that their members are aware of the restart of renewals and are supported as they recertify.
"As the largest Medicaid health plan in Rhode Island, Neighborhood is committed to helping our members retain access to health care services – whether that's as a Medicaid member or through one of our low-cost health plans offered through HealthSource RI," said Elizabeth McClaine, Vice President of Commercial and Medicaid Products, Neighborhood Health Plan of Rhode Island. "Throughout the public health emergency Neighborhood has partnered with EOHHS, DOH, RI's Community Health Centers as well as the state's other managed care organizations to help keep Rhode Islanders healthy and safe. As always, Neighborhood will help to ensure Rhode Island's uninsured rate remains one of the lowest in the country."
During the renewal process it is possible that an individual will be deemed no longer eligible for health insurance through Medicaid. However, eligibility will still be available for other affordable healthcare coverage through HealthSource RI.
"There is a significant amount of work in front of providers, health plans, community organizations, and the state to prevent the loss of coverage for this vulnerable population," said Domenic Delmonico, Director of Medicaid at Tufts Health Plan. "We all must work together to make the renewal process efficient and effective for Rhode Island Medicaid members. We applaud and thank the Governor and EOHHS for their efforts to ensure no Rhode Island residents lose their coverage."
"At UnitedHealthcare, we are committed to ensuring every individual has access to the critical medical care and preventive services needed to live healthier lives," said Mike Florczyk, CEO, UnitedHealthcare Community Plan of Rhode Island. "In Rhode Island, we are dedicated to collaborating with EOHHS, our provider partners and community organizations to ensure individuals with Medicaid coverage understand the steps needed to maintain continuous healthcare coverage through the redetermination process."
During the renewal process, some Medicaid recipients may learn that they are no longer qualified to receive coverage. HealthSource RI, the state's health insurance marketplace, stands ready to assist Rhode Islanders who need alterative coverage.
"For anyone unsure how to stay covered if their Medicaid coverage ends, we urge them to contact HSRI to learn about enrolling through us. Most HSRI customers can get financial assistance to bring down the cost of their health insurance, and some will qualify to be automatically enrolled in an HSRI plan when Medicaid ends. And, thanks to Governor McKee's budget initiative to provide this transitional coverage, thousands of Rhode Islanders will be provided with premium assistance during their first two months enrolled through HSRI," said HSRI Director Lindsay Lang. "Our mission at HealthSource RI is to help Rhode Islanders to enroll in quality, affordable health coverage, and we are deeply committed to helping Rhode Island residents avoid gaps in coverage during this return to Medicaid renewals."
As this process begins, it is very important to have the most current information available for Medicaid enrollees to ensure renewal information is sent directly to them without any interruptions.
If you are a Rhode Islander on Medicaid, here is what you should do right now to prepare for this process:
1. By computer or smartphone:
o Visit healthyrhode.ri.gov or download the HealthyRhode mobile app.
o Log in to your account with your username and password.
o Click "My Profile." Then click "My Contact Information."
o Check your name, mailing address, phone number(s), and email address. If your information has changed, please update it. Save your changes.
You can also choose to get text messages about your Medicaid coverage. Click "My Contact Information" and check the box that says "Sign Up for Text Messages." Follow the directions to finish signing up.
2. By phone:
· Call the number on the back of your insurance card if you have:
o Neighborhood Health Plan of Rhode Island
o Tufts Health Plan (RITogether)
o UnitedHealthcare Community Plan (UHCCP)
· Or, call HealthSource RI from 8 a.m. to 6 p.m., Monday through Friday, at 1-855-840-4774 for help.
For more information about Rhode Island's Medicaid renewal process, please visit staycovered.ri.gov – an online resource to assist Medicaid enrollees with the eligibility renewal process.