McKee Administration Officially Opens New Emergency Shelter in Providence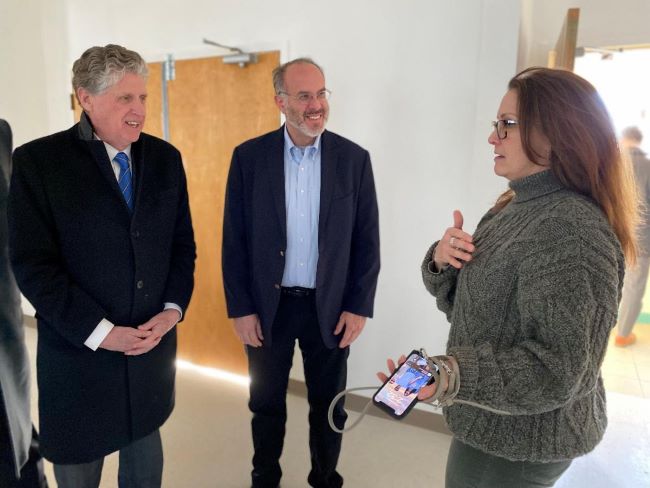 Crossroads Rhode Island to administer shelter and supportive services at 40-bed shelter facility located on Hartford Avenue in Providence
PROVIDENCE, RI – In a continuing effort to address chronic street homelessness in Rhode Island, the McKee Administration today announced the official opening of a new shelter facility in Providence. The facility on Hartford Avenue began receiving couples seeking shelter on Saturday as a result of the dangerous cold snap that hit our region.
The new shelter will operate 40 beds at a state-owned property on Hartford Avenue in Providence. Crossroads Rhode Island was selected to manage day-to-day operations at the site and will be responsible for administering shelter and supportive services to unhoused Rhode Islanders in need. Working within the state's Coordinated Entry System, Crossroads plans to operate the Hartford Avenue site as a dedicated Emergency Couples' Shelter. While priority will be given to couples, individuals may be eligible for shelter and services based on the availability of beds on any given night.
"Outfitting this previously vacant state-owned property as a shelter is one of many steps our Administration is taking to provide additional, immediate resources in a time of clear need," said Governor Dan McKee. "We thank the team at Crossroads Rhode Island for their hard work in operationalizing this site on a short timeframe, and we remain committed to working alongside our nonprofit partners and municipal leaders to continue connecting unhoused Rhode Islanders with shelter and services that connect them to permanent housing."
"This emergency shelter will help keep couples together in the immediate term, while also enabling these couples to pursue a path toward longer-term affordable housing," said Rhode Island Secretary of Housing Stefan Pryor. "We're glad that this facility was available over the weekend — even before its official opening – given the extreme cold and wind that Rhode Island experienced. It is important that we continue to provide new shelter beds to Rhode Islanders who are unhoused – even as we invest in permanent housing opportunities at every income level. Thank you to the terrific team at Crossroads and the alliance of State agencies – including the Departments of Administration and Housing – who brought this facility to life. And thank you to the remarkably nimble team at Amos House who operated this center this weekend."
"The housing crisis in Rhode Island is the most urgent issue facing the state and it requires an all-hands approach to address. The Hartford Avenue Shelter will provide couples and adults experiencing homelessness with a safe, warm, and predictable place to stay during the winter. As importantly, it will provide an opportunity for our housing problem-solvers to work with our shelter guests to find a permanent apartment," said Crossroads Rhode Island CEO Karen Santilli. "We appreciate the partnership with Governor McKee and newly appointed Housing Secretary Pryor which has allowed for a creative use of an underutilized state property to provide emergency shelter to confront the immediate homeless crisis. As we work together to keep people safe this winter, I am hopeful that we will also remain committed as a state to building additional housing for people experiencing homelessness so we can avoid the need for these kinds of emergency shelters in the future."
The Hartford Avenue shelter is funded through FY23 SFRF Homeless Assistance resources. Its opening comes as the Administration continues to make immediate investments in Rhode Island's housing landscape, including addressing the issues of housing insecurity and homelessness in Rhode Island through a medical respite care pilot program and standing up low-barrier solutions like the 24/7 Warming Station at the Cranston Street Armory; supporting prospective homeowners with a $30 million first-time homebuyers assistance program; and releasing $166 million in funding to support affordable housing development in Rhode Island.