McKee Administration to partner with Hospital Association of Rhode Island and Care New England to provide the State with independent third-party peer review as part of overall reevaluation of Eleanor Slater Hospital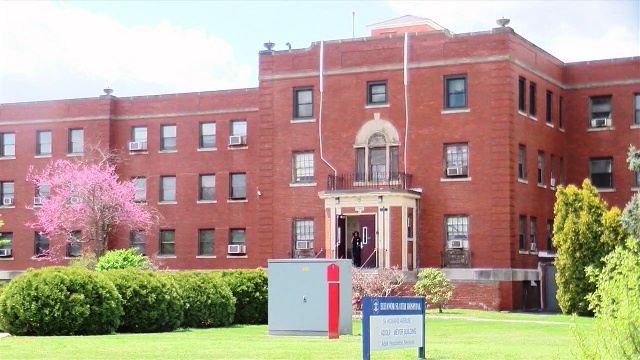 Local physicians and hospital executives will conduct a peer review to help ensure appropriate, quality care is provided for some of the most complex medical and psychiatric patients in our state
PROVIDENCE, RI – As part of an overall reevaluation of Eleanor Slater Hospital, Governor Dan McKee today announced a partnership between the Executive Office of Health and Human Services (EOHHS), the Hospital Association of Rhode Island (HARI) and Care New England (CNE). HARI and CNE will provide a peer review of the clinical and operational programs at Eleanor Slater Hospital focused on patient safety, quality of care and efficiency. This review is expected to take 60 days.
Eleanor Slater Hospital plays a vital role in Rhode Island's continuum of care to ensure that all individuals have access to the care and support necessary to promote long-term recovery and the best quality of life possible.
"Our Administration is committed to examining and addressing longstanding issues at Eleanor Slater Hospital to ensure patients receive the quality care they deserve," said Governor McKee. "The partnership with Hospital Association of Rhode Island and Care New England is an important step and we thank both organizations for their collaboration."
"The patients in our care at Eleanor Slater Hospital deserve the very best treatment and, as part of my ongoing review of the issues facing the Department of Behavioral Healthcare, Developmental Disabilities and Hospitals (BHDDH), I want to ensure that each individual is receiving the appropriate supports," said Rhode Island EOHHS Secretary Womazetta Jones. "We greatly appreciate the Hospital Association of Rhode Island and Care New England's willingness to bring their expertise to this independent clinical review."
"As a member of the Hospital Association of Rhode Island, we recognize the integral role ESH plays in providing care to some of the most vulnerable patients in our state.  HARI is committed to assisting EOHHS in its overall reevaluation of ESH to ensure patients are safe and getting the best care possible now and in the future," Michael Souza, Chairman of the HARI Board of Trustees.
Care New England operates Kent Hospital, Butler Hospital, The Providence Center and other locations across the state where high-quality development, behavioral and psychiatric care are provided.
"Care New England is happy to partner with HARI and the state as a clinical colleague to assist in providing recommendations for the future of patients in need of these clinical levels of care. An unbiased clinical peer group will execute an independent review in close and constant communication with the state," said James E. Fanale, MD, President and CEO, Care New England Health System.
The McKee Administration is currently undertaking a thorough review of BHDDH, which includes ESH. The review, being led by Secretary Jones, covers issues ranging from departmental policy and operations to staffing and quality standards for patient care.