MEET OUR GRADUATES: HER ROCKY PATH PAVED THE WAY TO NEW OPPORTUNITIES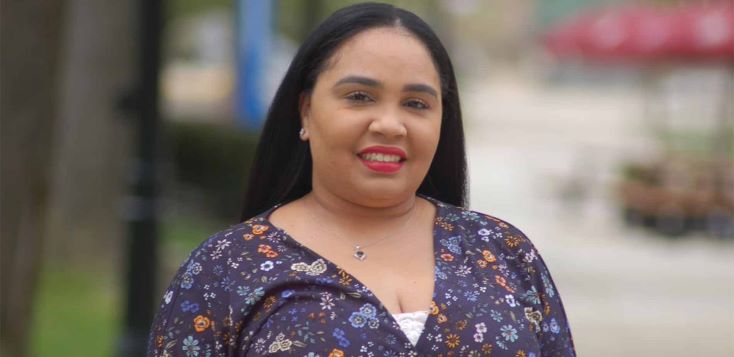 Gonzalez plans to use her interest in behavioral psychology to work with children in underserved communities.
After Jeniece Gonzalez graduates from Rhode Island College with a bachelor's degree in psychology this year, she's headed to attend graduate school at William James College in Massachusetts, making significant strides toward her career goal.
"I want to give back by working as a school psychologist in an underserved community," Gonzalez says in a confident and bold voice. "I'm hoping to make a difference to someone who may have been in my shoes."
Gonzalez believes that she could have used a school psychologist back in 2006 when she was a struggling 16-year-old who was pregnant, impoverished and at one point homeless.
"Being a teen mother was very difficult," she recalls. "I was relying on my son's father to help me survive. My mom told me that I made my bed and had to sleep in it. When she kicked me out of the house, it was her brand of parenting to show me how to grow up. I don't regret she did that because I've been able to come out of this successful."
Nonetheless, her challenges taught her many lessons. She went to OBGYN appointments on her own and had to learn a crash course in financial literacy and budgeting. After an unsuccessful attempt to move to Buffalo, New York, Gonzalez returned to Providence to live in public housing with the family of her son's father.
"We were living in a place infested with roaches and no utilities, and eventually lost the apartment through eviction," Gonzalez explains. "We were homeless with nowhere to go."
For Gonzalez, who had grown up in a middle-class environment, being homeless for three months was a stark eye-opener.
"The experience of homelessness humbled me and allowed me to understand how people can get to certain places in their lives," she says. "I saw how families can have no resources or don't know how or where to get resources. The perception in the world is that people who are homeless are lazy but that's not accurate. There's so much more to it."
After separating from her son's father, Gonzalez's mom gave her funds for a deposit to secure an apartment. At the time, Gonzalez, who had earned her high school diploma through an alternative program, was a single mother working at a Subway sandwich shop.
She went on to work at Citizens Bank and built a successful decade-long career in the mortgage and bank industry but wasn't happy. It was through her son's struggles with attention deficit hyperactivity disorder (ADHD)  that she found her calling, after witnessing a school psychologist's efforts to help her son.
"I know she was just doing her job, but she made so many great recommendations to help my son succeed in school," Gonzalez says. "She provided so many resources and books to help me learn about ADHD because I had no idea where to look. She was that middle person between me and the teacher whom I felt was going above and beyond."
That connection with the psychologist inspired Gonzalez to follow in her footsteps.
"I saw the potential for me to help parents coming from Hispanic and underserved communities who might have language barriers and can't get help for their children," she says.
While at RIC, Gonzalez has interned as a behavioral health specialist at Bradley Hospital and is currently a classroom behavior specialist in Cumberland's Bradley School North, where carrying out therapeutic regimens and maintaining behavior data for students are among her daily duties.
Lillian Torrado, Gonzalez's aunt and godmother, says she has no doubts that Gonzalez, now 32, will succeed in whatever she pursues.
"She's sharp as a tack and has no problems articulating what she wants. She stands by her beliefs," says Torrado, who calls her niece Jenny. "She went through trying times when she was a young girl and I believe that made her stronger."
For Gonzalez, having Torrado's support helped her navigate through adversity. When she was a teen mom, she read about how easy it was for young minority women to drop out of high school and fail.
"Learning that pushed me to motivate myself and make a difference for my son's future," says Gonzalez, who is now engaged to be married. Her sons are ages 15 and nine.
"Along the way, I felt like giving up, but that feeling also motivated me. I hope my story can help others to see that anything is possible, but you must do the work. I know I still have much work ahead of me."