Meet Writer Guillém Clúa!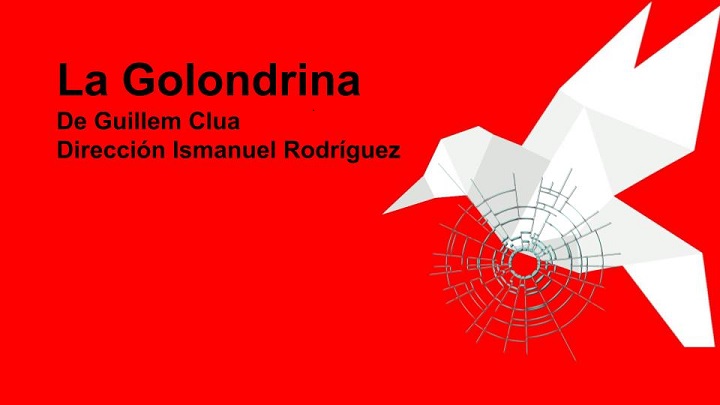 La Golondrina
Marzo 24  –  Abril 3
Meet the playwright
Guillém Clúa, Author La Golondrina, received a Bachelor's in Journalism from the Autonomous University of Barcelona, began his theatrical training at the London Guildhall University (London) in 1994 and in the Beckett Room in Barcelona. His first work, Invisibles, won the prestigious Ciutat d'Alcoi Theater Award in 2002, a year in which he adapted for the Death in Venice scene of Thomas Mann. His piece The Flame Skin achieves the Ciutat d'Alcoi for the second time, the Barcelona Criticism Award for the best text of 2005. Since then that text has been premiered in more than 15 countries, including the National Dramatic Center (Maria Guerrero Theater, 2012). Clua has written, among other things, The Taste of Ashes (2006), Marburg (2010), The Promised Land (2011), Invasion (2012), Smiley (2012), The Revolution Will Not Be Tweeted (2013) and the Musical Killer (2011), An Angel Has Passed (2013) and 73 reasons for Leaving You (2015). He has also contributed texts or collaborations in drama-dance shows such as Cinderella (2014) or In the Desert (2015), as well as adaptations of classics such as Project Homer: Ilíada (2016) or La Revoltosa (2017). Clua also has a long experience as a screenwriter in TV series.
La Golondrina a new play by 
Guillém Clúa
   New England Premiere
La Golondrina Mar 24 – April 3
by Guillém Clúa Directed by Esmanuel Rodríguez
Ms. Amelia, a well-respected singing coach, receives Ramon, a young man who wants to improve his vocal technique so he can sing a tribute at his recently deceased mother's memorial. The chosen song, "La Golondrina," has a special meaning for him and apparently also for Amelia, who despite her initial reticence, agrees to give him a lesson. As the afternoon progresses, the two characters unravel the details of their past, deeply marked by a terrorist attack in a bar, The Pulse Nightclub.
"I was so impressed with the experience and background of our director Ismanuel Rodríguez when I had a chance to spend time with him last year as part of our conversation series, ECAS en Casa." says Francis Parra, Artistic Director.  "We are incredibly lucky to have him directing this searing emotional play that takes you to the most intimate conversations."
"La Golondrina shares the story of two individuals who find that they will be linked to each other forever due to a terrorist attack. But it says a lot about how we prevail with love and understanding in the face of adversity and come together to find common ground." says Parra.
La Golondrina will be presented in Spanish with simultaneous English translation supertitles.
La Golondrina
Thursday March 24 at 7 p.m.
Friday March 25 at  7 p.m.
Saturday March 26 at  7 p.m.
Sunday March 27 at  3 p.m.
Thursday March 31 at 7 p.m.
Friday April 1 at 7 p.m.
Saturday April 2 at 7 p.m.
Sunday April 3 at 3 p.m.