Members of Union Fire District Station 9 Complete Multi-Part Water Supply Tanker Training Series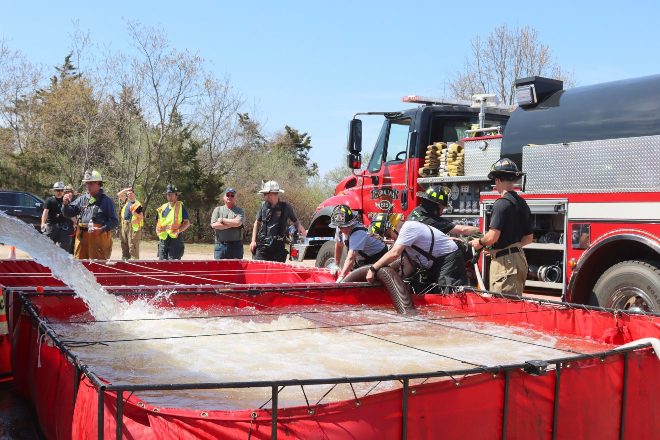 Members of the Union Fire District's West Kingston Station joined more than a dozen local departments from across Southern Rhode Island and eastern Connecticut on Sunday, May 2, for the final day of a three-part training series on rural water supply and tanker shuttle operations. (Photo courtesy Union Fire District of South Kingstown)
SOUTH KINGSTOWN — Chief Steven Pinch and the Union Fire District of South Kingstown are pleased to report that members of UFD's West Kingston Station 9 recently completed a three-part training series on rural water supply and tanker shuttle operations.
The series, sponsored by the Rhode Island Southern Firefighter's League, featured both remote lectures and practical in-person skills training.
"After not being able to conduct much in the way of in-person training due to the pandemic, it means a lot to be able to bring everyone together like this to give officers hands-on experience with this equipment and to conduct drills for these situations," said Retired Union Fire District Deputy Chief Kevin D. Quinn, who also serves as Interim CEO of the National Volunteer Fire Council. "I think now that more and more people are vaccinated and we are ready to return to normal, there is a real thirst for training like this."
The series began on Tuesday, April 6 with a virtual classroom session to cover the parts of water supply, the safety of these operations and determining a fire flow formula for an incident. Then on Sunday, April 25, participants gathered at Ninigret Park in Charlestown for hands-on training on rural water supply operations including initial attack and nurse tanker operations, fill site and dry hydrant set up, dump site operations and communications and safety.
The final session was held at Ninigret Park on Sunday, May 2 where participants took what they had learned and engaged in real-time tanker shuttle drills.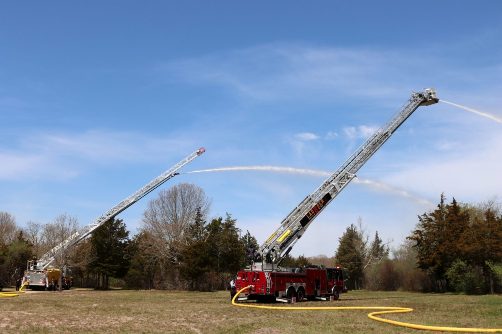 The series was designed for departments who do not normally conduct rural water supply operations, along with focusing on new officers who need experience in running these situations. Drills were designed for officers at every skill level.
Members of Union Fire District's West Kingston Station 9 took part in the training, as that is the station where UFD's tanker vehicle is housed. The training was valuable for all members of the station, especially those who have not had much experience with these types of drills.
"There is no hydrant access in our station's coverage area, so it is critical we receive this kind of training on tanker operations," said Station 9 firefighter Stephen Graham. "All tankers are different and it's especially important for the new recruits. We have had at least four new volunteers come on board since last year and it's great to be able to finally offer them this kind of training."
In total approximately 150 firefighters from departments across southern Rhode Island and eastern Connecticut took part in the series. Lead instructors included Deputy Chief (Ret.) Richard Collinson of the Union Fire District.
"Offering regular training to both our new recruits and long-time members is something we take great pride in," Chief Pinch said. "I commend the members of Station 9 for furthering their skills and knowledge through this training series."