Memphis Police Dismiss Sixth Officer Following Deadly Beating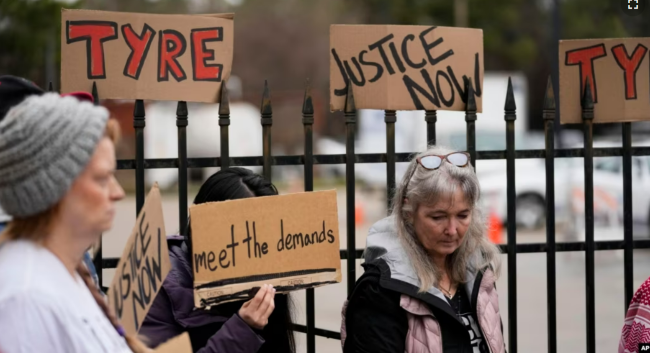 VOA News
Police in the southern U.S. city of Memphis, Tennessee, have disciplined a sixth officer for his role in the fatal beating of Tyre Nichols, a 29-year-old Black man, following a traffic stop.
Officer Preston Hemphill was fired from his job on the police force but has not been charged with any crimes. Memphis police did not disclose Hemphill's role in the arrest and beating of Nichols.
Five other officers have been charged with second-degree murder, aggravated assault, aggravated kidnapping, official misconduct and official oppression. The five officers, all Black, were also fired.
Police released video footage Friday showing the five officers brutally beating Nichols earlier this month after stopping him for alleged reckless driving. Nichols died from his injuries three days later.
The graphic video showed several policemen holding Nichols down while other officers kicked, punched and struck him with a baton. In one clip of the video footage, Nichols can be heard crying out for his mother.
The video footage, which was taken from police bodycam and surveillance video, also showed other officers at the scene of the beating.
Family members of Nichols, as well as protesters who have carried out demonstrations since the video's release, have called for more police officers to be fired or charged.
The Associated Press reported two Shelby County sheriff's deputies have been relieved of duty without pay while their conduct is investigated. It said two Memphis Fire Department workers have also been removed from duty.
On Saturday, the Memphis Police Department disbanded the police unit that the five charged officers were part of. The so-called Scorpion unit targeted violent criminals in certain areas. Lawyers for the Nichols' family argued they were "suppression" units that acted with impunity and were more likely to use force than other members of the police force.
Some information in this report came from The Associated Press and Reuters.