Middleborough Fire and Police Departments Investigating House Fire on Wareham Street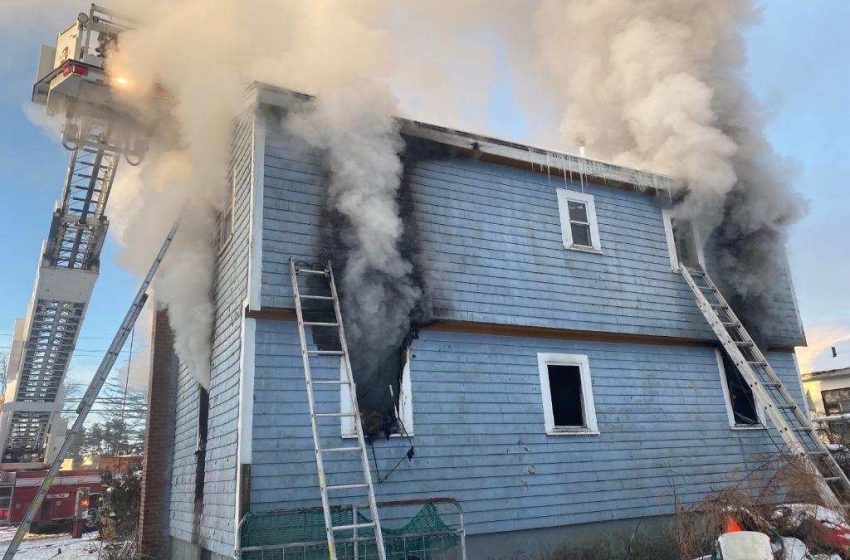 MIDDLEBOROUGH – Fire Chief Lance Benjamino and Police Chief Joseph Perkins report that the Middleborough Fire and Police Departments are investigating a house fire that occurred on Wareham Street earlier this morning.
At approximately 6:30 a.m., Middleborough Fire responded to a call for a report of a fire at 581 Wareham St. (Route 28). Upon arrival, crews located fire showing from the right side of a two-and-a-half-story wood-frame home.
Crews declared a working fire, which resulted in a callout for all on-duty and some off-duty Middleborough firefighters, as well as mutual aid from the Carver and Lakeville fire departments.
Firefighters were initially unable to gain entry to the home through the front door due to items blocking the entrance. Firefighters began an aggressive exterior attack while crews worked to clear the entryway.
Firefighters were then able to gain entry through a window on the second floor of the home where the fire had extended. Firefighters began an aggressive interior attack once inside the home and worked quickly to extinguish the fire.
The fire was largely knocked down by approximately 7:50 a.m.
One resident was home at the time of the fire and was able to safely get outside prior to firefighters' arrival. No injuries were reported in the incident.
Damage to the home is estimated to be approximately $150,000. The house is currently uninhabitable due to smoke and water damage and the resident is being assisted by the American Red Cross.
The cause remains under investigation by the Middleborough Fire and Police Departments. The Plymouth County Sheriff's Bureau of Criminal Investigation (BCI) also responded to the scene to assist with the investigation.
While responding to the fire, first responders discovered an alleged illegal marijuana grow operation inside the home. The Middleborough Police Department has seized several marijuana plants and growing equipment from the home.
Detectives are still determining the exact quantity of marijuana seized, however the amount of marijuana plants seized exceeds the lawful amount residents in a household are allowed to grow. The investigation remains ongoing and no charges have been filed at this time.
The Middleborough Police Department closed a portion of Route 28 in the area of Locust and Pine streets during the incident. The road has since been reopened.
Firefighters and detectives remained on scene into the morning overhauling and investigating.