Moderna COVID Vaccine arrives at Blackstone Valley Community Health Care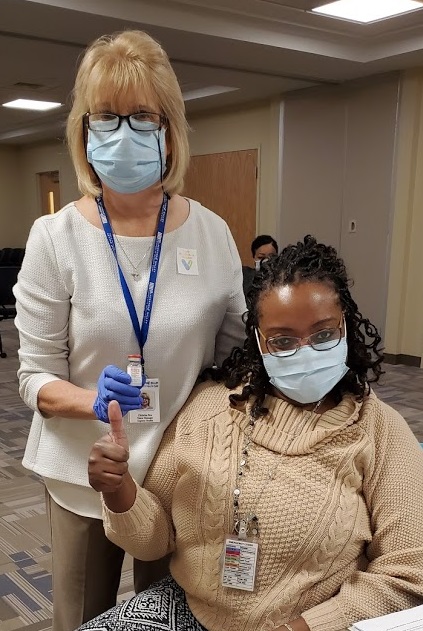 Pawtucket, RI – Blackstone Valley Community Health Care (BVCHC) has been leading the way through the
COVID-19 pandemic, offering patients telehealth, covid testing and evaluation and in person visits in a safe
environment. In doing so, we are able to meet our patients where they are. BVCHC administered its first doses
of the Moderna COVID-19 vaccine to frontline workers from the Blackstone Valley Neighborhood Health
Station located in Central Falls on December 29th. Elderly and high risk patients were called last week to set up
appointments for their first dose.

The initial shipment of the vaccine from the Rhode Island Department of Health included 250 doses last
Monday another 120 doses today, prioritizing front line workers for initial doses, including members of the
dental team, Express Care, and those who are on the frontlines of public respiratory and COVD testing.

Moderna's two-dose vaccine has proven to be 94% effective in preventing COVID-19 infections. "We are so
excited to be able to offer the COVID vaccine to our patients, who since the beginning have been the hardest hit
Rhode Islanders. We are confident in the vaccine's safety and effectiveness, and encourage all of our patients
to get it, especially those over 65 or with a high risk condition." Dr. Cristina Pacheco.

Blackstone Valley Community Health Care has been a statewide leader in responding to COVID,
including offering Curbside Care since March at 39 East Avenue allowing patients to receive routine care, in the
comfort of their vehicle by appointment. BVCHC continues to offer Respiratory Care and COVID-19 testing
by appointment for current BVCHC patients at 1000 Broad Street in Central Falls and 39 East Avenue in
Pawtucket. Currently completing 50+ test a day by appointment. Express Health Services remain available by
appointment, Monday through Saturday, offering Telehealth for Primary Care and Behavioral Health.

As the world around us continues to adapt to COVID-19, Blackstone Valley Community Health Care is
committed to service our community and preserving the health and well-being of its patients. BVCHC currently
serves over 300 patients daily in primary care, behavioral health, community health, optometry, and dentistry
for acute needs.