Moderna Says Its Vaccine Is Effective Against COVID-19 Variants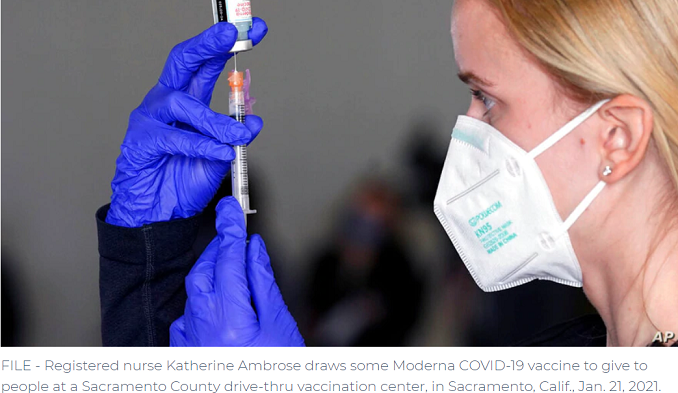 By VOA News
U.S. pharmaceutical company Moderna said Monday its COVID-19 vaccine appears to produce virus-neutralizing antibodies against new variants of the coronavirus found in Britain and South Africa.
In a statement, the company said it conducted studies to ensure the two-dose regimen of the Moderna COVID-19 vaccine is protective against emerging strains of the virus detected to date.
The company says it will continue a clinical strategy "to proactively address the pandemic as the virus continues to evolve," including testing the effectiveness of an additional booster dose of its COVID-19 vaccine.
The recent emergence of several coronavirus variants, which have shown to be more transmissible — and in the case of a strain first identified in Britain, possibly more lethal — has made vaccinations a top issue for health officials.
Scientists said last week that while the British variant was associated with a higher level of mortality, it was believed that existing vaccines were still effective against it. However, a more contagious South African variant may reduce the effectiveness of current vaccines, scientists said.
Rising numbers
The news from Moderna comes as the total number of confirmed coronavirus cases around the world approaches 100 million.
In France, the number of people hospitalized for COVID-19 rose by more than a 1,000 in the last two days, a spike that has not been seen for more than two months. Health officials said Monday the number of people in intensive care units for the disease surpassed 3,000 for the first time since early December.
In Britain, where the death toll from COVID-19 is approaching 100,000, Prime Minister Boris Johnson said he was looking at toughening border quarantine rules.
He said there is fear that vaccines may be less effective against new variants of the coronavirus, like the one first identified in Britain.
"We have to realize there is at least the theoretical risk of a new variant that is a vaccine-busting variant coming in," Johnson told reporters at a vaccination center in London.
"We want to make sure that we protect our population, protect this country against reinfection from abroad," he said.
U.S. travel restrictions
In the United States, U.S. President Joe Biden signed an order Monday barring most foreigners who have recently been in South Africa from entering the United States.
Biden also reimposed an entry ban, set to expire Tuesday, on non-U.S. travelers who have recently been in Brazil, Britain and much of Europe.
White House spokeswoman Jen Psaki said Monday at a news briefing, "With the pandemic worsening and more contagious variants spreading, this isn't the time to be lifting restrictions on international travel."
U.S. Centers for Disease Control and Prevention chief Rochelle Walensky said in an interview Sunday that the plan is to monitor "the impact of these variants on vaccines, as well as on our therapeutics."
She said the CDC was collaborating with the National Institutes of Health, the Food and Drug Administration, and the Pentagon in tracking the coronavirus mutations.
Several states in the United States that have been hot spots for the virus in recent weeks, including California and Arizona, have shown an improvement in coronavirus deaths and cases per day, according to the Associated Press.
California lifted its regional stay-at-home orders Monday, allowing for local counties to impose restrictions as needed. The statewide move allows many restaurants to resume outdoor operations and for hair and nail salons to reopen.
Mexican leader infected
On Sunday, Mexican President Andres Manuel Lopez Obrador became the most recent world leader to announce that he had tested positive for COVID-19, the disease caused by the coronavirus. From his Twitter account Sunday, Obrador said he is receiving treatment and his symptoms were mild.