Modi To Visit Site of Deadly Train Derailment in India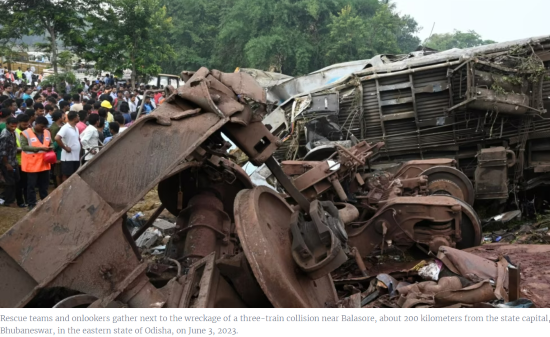 Indian Prime Minister Narendra Modi Is scheduled Saturday to visit the site of the massive train derailment that has claimed the lives of nearly 300 people and injured close to 900. Modi is also expected to visit the hospital where the injured have been taken.
A report in The Times of India said one of the trains involved in the accident entered the wrong track just moments before the derailment.
India has declared Saturday a national day of mourning out of respect to the victims.
Sudhanshu Sarangi, director general of Odisha Fire Services, told Agence France-Presse that there are "a lot of serious injuries."
The accident happened Friday night about 220 kilometers south of Kolkata.
Emergency workers had to climb overturned train cars to rescue some victims, while other rescuers cut through the trains' cars to provide emergency services.
Anubha Das, a passenger on one of the trains, told Reuters he would never be able to forget what he saw. "Families crushed away, limbless bodies and a bloodbath on the tracks," he said.
The Times of India reported that eyewitnesses said that the impact of the trains was so great that "scores of people were thrown out of the train through the broken doors and windows."
Authorities say at least three multicar trains were involved in the derailment accident.
People who lived near the accident rushed to the site to help in the rescue efforts. Likewise, reports say that many people have also gone to the hospital to donate blood.
Train accidents are a frequent occurrence in India due to the railways' aging infrastructure. More than 12 million people ride thousands of trains across the country every day.