mtrak & RIDOT Continues Partnership with SeaStreak to Offer Thruway Connections at Providence Station to Newport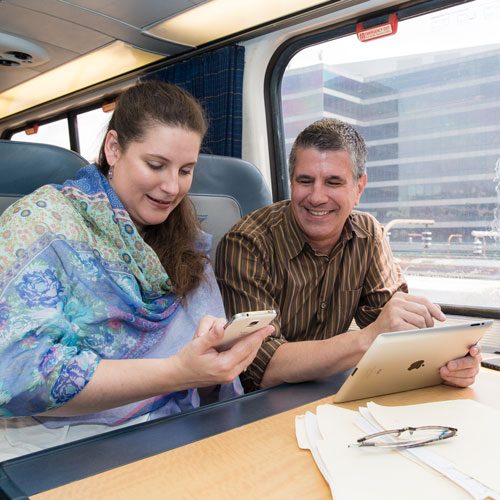 Rhode Island travelers can again take the train to and from the ferry in Newport via daily thruway connections
PROVIDENCE – Amtrak today announced it will partner with Rhode Island Department of Transportation (RIDOT) and SeaStreak for another season to offer travelers connecting service from Providence Station to Newport via convenient shuttle connections to and from the SeaStreak Ferry Terminal now through Monday, October 10. There will be four daily roundtrips available now through Monday, September 5, and three daily roundtrips available from Tuesday, September 6 through Monday, October 10.
"We are proud to partner with RIDOT and SeaStreak to once again offer travelers easy connections in Providence from all modes of transportation – from train to bus to ferry," said Amtrak President Roger Harris. "Whether it's to experience the majesty of Narragansett Bay, learn about the history on Benefit Street, enjoy gelato in Federal Hill or spend a day watching exotic animals in Roger Williams Park, Providence visitors can now get to Newport via the relaxing amenities of the ferry and experiencing some of the best views in the country on an Amtrak train."
"Since we launched the Providence-Newport ferry seven years ago, we've carried more than 210,000 people," RIDOT Director Peter Alviti, Jr. said. "With more transit connections like Amtrak's, more of our ferry riders can take advantage of existing transit services for an easier connection to Newport while saving gas and helping reduce vehicle emissions."
Amtrak travelers riding on both the Acela and Northeast Regional – the two Amtrak trains that service Providence Station – can connect with this service. The station is also served by the Massachusetts Bay Transportation Authority commuter rail that runs between Boston South Station and Wickford Junction via T.F. Green International Airport. In FY21, Providence Station was the 11th busiest station in Amtrak's national network with more than 303,000 passengers either boarding or alighting a train at the station.
Rhode Island travelers and visitors traveling on Amtrak Acela and Northeast Regional service can experience onboard amenities that include free Wi-Fi, carry-on bike service, Business Class seats, the freedom to use phones and electronic devices at all times (no "airplane mode"), the ability to travel with small pets, a café car, large spacious seats with ample leg room, and no middle seat. Similar amenities on the SeaStreak ferry include plush seating with spacious legroom, a climate-controlled cabin, and an open-air top deck, 360-degree panoramic windows, private restroom, free high speed Wi-Fi, and a full-service cash bar with cocktails, beer, wine, sodas, tea, coffee, and snacks.