NEW CENTER SEEKS TO ELIMINATE BARRIERS IN LATINX MENTAL HEALTHCARE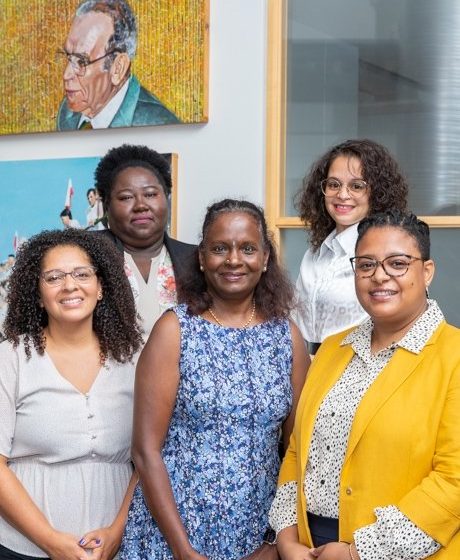 The Atrévete Center of Excellence for Latinx/Hispanic Social Work Practice plans to add up to 55 bilingual providers across Rhode Island by 2027.
For many years, it's been challenging for Latinx community members in Rhode Island to find a bilingual mental health provider. The pandemic only made that prospect worse.
In fact, Rhode Island's behavioral healthcare workforce, which is primarily white and English-speaking, does not reflect the racial and cultural diversity of state residents and efforts must be made to close this gap, according to a 2021 report by the Mental Health Association of Rhode Island.
The Atrévete Center of Excellence for Latinx/Hispanic Social Work Practice, housed inside the School of Social Work at Rhode Island College, was recently created to fill that void. By 2027, the Center of Excellence anticipates it will add as many as 55 trained bilingual providers to the state's behavioral healthcare workforce.
"When you need help for your family or child, we've found that it's hard to find a Spanish-speaking clinician in Rhode Island, and those clinicians who are bilingual have long waiting lists," says RIC Professor of Social Work Jayashree Nimmagadda (pictured center, along with, clockwise from her left, staff members Joise Garzon, Aswood Bousseau, Estrellita Moronta and Vilna Tejeda.)
"This project is an opportunity to build capacity to provide culturally responsive services to a growing community and meet their mental health needs."

– RIC Professor of Social Work and Project Director, Jayashree Nimmagadda
Nimmagadda is the principal investigator and overall project director for the four-year U.S. Health Resources and Services Administration grant that brought the center to fruition, bringing in $650,000 in the first year with the possibility of renewal for another three years, totaling $2.6 million.
The mission of the center is multifaceted and it plans to address five major goals:
Create a pipeline of Latinx students from high schools and community colleges to RIC's B.S.W. and eventually M.S.W. programs (specializing in clinical social work).
Recruit and retain Latinx faculty at the School of Social Work.
Build community partnerships to provide experiential learning for clinical social work students.
Strengthen curriculum to address issues regarding Hispanic and other minority populations.
Conduct research on culturally adapted evidence-based interventions for mental health issues that impact the Latinx and Hispanic community.
While Nimmagadda will oversee all center operations, RIC assistant professors of social work Vilna Tejeda M.S.W. '12 and Joise Garzon '12, M.S.W. '13, Ph.D Ed. '23 are the center's co-directors. Aswood Bousseau, another RIC assistant professor of social work, will fill the role of faculty development advisor and Estrellita Moronta '18, M.S.W. '19 has been named the center's first faculty fellow.
"This grant will allow us to be change agents," Garzon says. "What we see happening is that providers in the community are not matching the demographics of the people they serve. The center will allow us to help increase diversity in the field, so that Latinx people can communicate in their own language when receiving services."
Nimmagadda and Garzon will also connect with guidance counselors at local middle and high schools to engage with Latinx students about career possibilities in the social work field.
"Usually when students think of helping other people as their passion, they may not think of social work as an option," Nimmagadda says. "We plan to be more intentional about building awareness so that students in places like Providence, Pawtucket and Central Falls can see themselves building a career as a professional social worker."
Garzon says she wasn't aware of social work when she was a high school student in Central Falls and contemplated a career in psychology.
"As we venture into the schools, Latinx students will become aware of social work as a career path and build social capital by having access to social work faculty members from whom they can receive support during their higher education journey. I didn't have those resources, so the grant speaks to the equity piece of our work as well."

– Atrévete Center Co-Director, Joise Garzon '12, M.S.W. '13, Ph.D Ed. '23
Equity and inclusion will take center stage in efforts to revamp the School of Social Work curriculum and conduct culturally sensitive evidence-based research, Tejada says.
"There is a gap in research by and directly for the Latinx community," Tejeda says. "Many of the people who publish want to see standard Eurocentric approaches to practice. Our goal is to change that and bring in indigenous and Afrocentric practice. We believe there are alternative treatments that can serve our community more effectively."
Bousseau adds that the center's work aligns perfectly with the college's Hispanic Serving Institution status, a federal designation recognizing schools where 25 percent or more of undergraduate full-time student enrollment identifies as Hispanic. It's the only college in the state with such a distinction.
"This is a great way to highlight our HSI status," says Bousseau, whose role within the center is to help Latinx faculty work on their scholarship and build a curriculum for the center. We won't be an HSI in name only, providing much needed support for Latinx students and faculty members."
Through the center, Tejeda says cohorts of students will be trained to adopt a sense of cultural humility.
"Our hope is that this will lead to an end of over diagnosing and over medicating in our communities," she says.
Nimmagadda says the center's partnerships with community agencies such as the Rhode Island Free Clinic and Clinica Esperanza will also be vital.
"We have signed agreements with these agencies for our students to become interns and receive clinical supervision from a licensed M.S.W. who is bilingual and can be a role model for them."

– RIC Professor of Social Work and Project Director, Jayashree Nimmagadda
Students will learn about specific health disparities and social determinants of health that impact Hispanic communities.
As faculty fellow, Moronta will teach four courses, including one this spring specifically targeting Latinx mental health, and pitch in on research initiatives. After she completes her doctoral degree at Simmons University in Boston later this year, Moronta hopes to join the RIC faculty full-time.
"This center is going to be a big deal for the state, and what I see from its creation is empowerment, inclusion and creating a space for Latinx populations," Moronta says. "It demonstrates that Rhode Island is progressive and willing to move along with Latinx growth in the United States. The initiative can hopefully help diminish the trust disparity that Latinx communities have with medical providers, which has resulted in high rates of poor mental and physical health."
Tejeda agrees.
"By training clinicians, we're staying ahead of the game and proactively addressing an issue before it becomes an epidemic," she says.