NORTH PROVIDENCE FIRST BLACK-OWNED BAKERY, CELEBRATES A MILESTONE ANNIVERSARY THIS FALL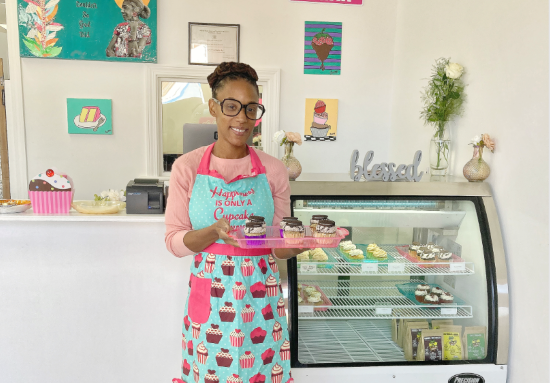 NORTH PROVIDENCE – August 26. The pale pink and baby blue awning bearing "Syroya's Bakery" viewed by the busy Mineral Spring Avenue drivers welcomes regulars who come in for their favorites: buttery pound cake, custom cupcakes and pre-orders of lavash mile high decorated cakes is celebrating their anniversary Saturday, November 4, 1860 Mineral Spring Avenue North Providence.
"We are overwhelmed by the community's support, especially the regulars that come in for their favorite cupcake or a slice of pound cake. Our sincerest and most heartfelt gratitude to our customers, the companies, and educational institutions for trusting us. I cannot express in words how much your loyal patronage means to us, but that's not going to stop me from trying" says bakery owner Syroya Eugene.
There is a lot to celebrate for the first minority woman owned bakery in North Providence. especially this past summer: a contract to provide baked goods for the downtown Providence based RES Restaurant, serving cupcakes to Motown Record legend, Smokey Robinson at the Jeffrey Osborne Celebrity Classic Golf in July and Syroya's Bakery was a filming location for the Good Burger 2 film production.
It was a family affair when the Good Burger 2 film production was in Rhode Island last June, the Bakery owner's son, Milquan Lyles worked as an intern for the production's costume department. The Film premieres in November on Paramount Plus
Syroya's Bakery, located at 1860 Mineral Spring Avenue in North Providence is open Tuesday through Saturday, 9:30 a.m. –  6p.m.  For information on ordering custom cakes go to the website.