Office of the Attorney General, law enforcement, advocates and victims commemorate 2023 National Crime Victims' Rights Week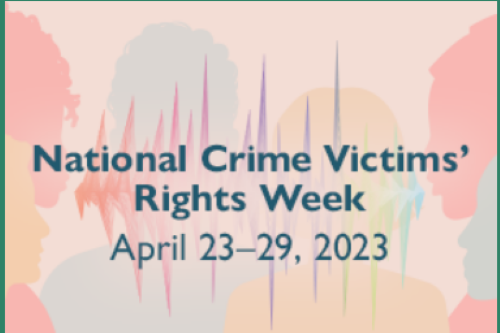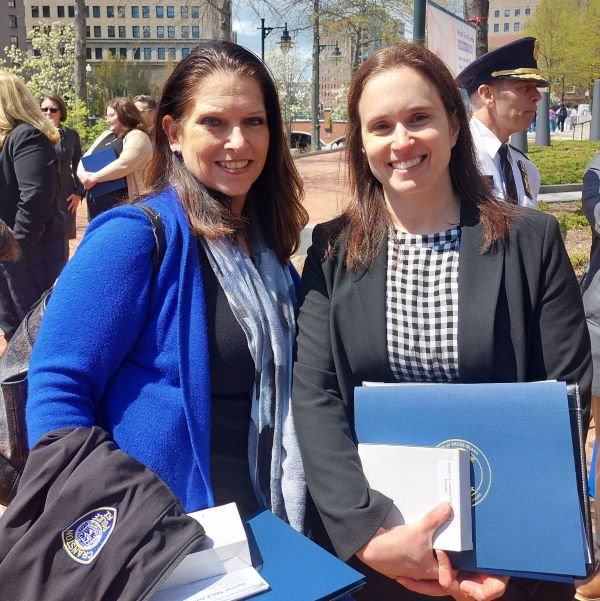 PROVIDENCE, RI – In commemoration of the 42nd annual National Crime Victims' Rights Week, the Office of the Attorney General, partners in law enforcement, advocates, service providers, and victims of crime gathered in Providence's Memorial Park to honor the strength and resiliency of victims and victim service providers. This year's National Crime Victims' Rights Week (NCVRW) theme emphasizes the importance of listening to survivor voices and uplifting victims to affect change.
"It is important to remember that there is at least one victim behind every crime; a victim that deserves to be heard," said Attorney General Peter Neronha. "Victims and survivors provide us with invaluable insight into the lasting effects of crime, while simultaneously demonstrating admirable perseverance and strength. Today and every day, I celebrate our office's victim services team for the essential work they perform on behalf of crime victims, providing the necessary support and compassion to people when they need it most."
During the ceremony, Deputy Attorney General Adi Goldstein presented an award to the family of Andrei Bonilla, posthumously honoring his many contributions to a mission of non-violence and his community. During his life, Andrei was a fearless advocate for non-violence and beloved by his family and friends. A graduate of Year Up, Andrei was an innovative entrepreneur who began his own clothing line, Rise Above Hate, to promote non-violence, hope, and brotherhood. Through his inspirational message of peace and acceptance, he aimed to bond and unite people regardless of differences.
Tragically, Andrei's life was cut short when he was shot and killed in August 2021. The man responsible was prosecuted by the Attorney General's Office and ultimately convicted of first-degree murder in December 2022. He is scheduled to be sentenced in Providence County Superior Court on April 27, 2023.
"Andrei Bonilla was someone who practiced non-violence and advocated for peace, which makes the circumstances of his death all the more heartbreaking," said Deputy Attorney General Goldstein. "And while his passing is an immeasurable loss to his family, friends, and our community, his spirit on and inspires all of us."
State officials and law enforcement leaders provided words of support in recognition of victims and victim service providers.
"Today's event, and this week's commemoration, reminds us of something that should be central to all of our work in the criminal justice system, every day: that seeking justice for victims, supporting them in their resilience and tenacity, and honoring their capacity to thrive in the wake of adversity, is among the most important work that we can do," said U.S. Attorney Zachary Cunha.  "I'm proud to recognize the bravery of victims of crime, as well as the service and support of all of those in the victim support and advocacy community here in Rhode Island."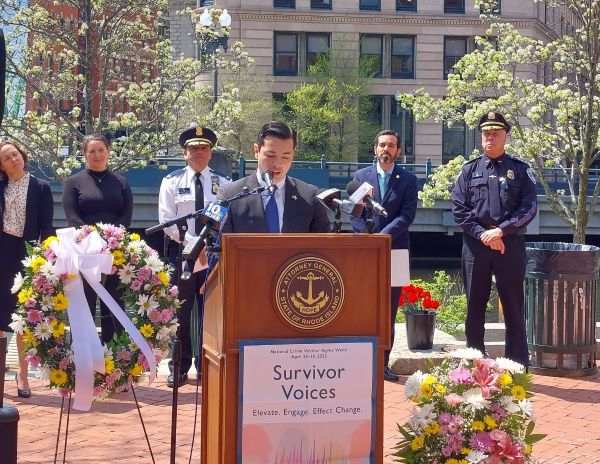 Treasurer James Diossa
"As we mark National Crime Victims' Rights Week, I'm very inspired to see all the efforts in our state to support victims of crime and their families," said Treasurer James Diossa. "My office and I stand in support of victims this week and throughout the year, and encourage action to strengthen services available to them such as the Treasury's Crime Victim's Compensation Program."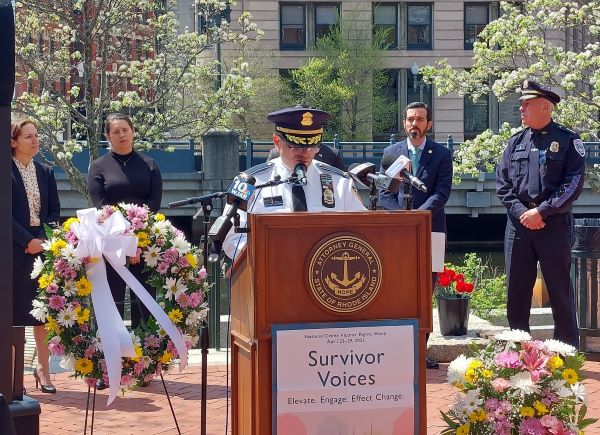 "Every day, along with our advocates, the Providence Police Department strives to help victims find the support and services they desperately need," said Providence Police Chief Oscar Perez. "It is important to not only recognize the trauma that crimes of this nature cause, but also the resiliency of those who have experienced it. I want to thank our Victim Advocates for their continued partnership, ongoing efforts, and dedication to making our community stronger."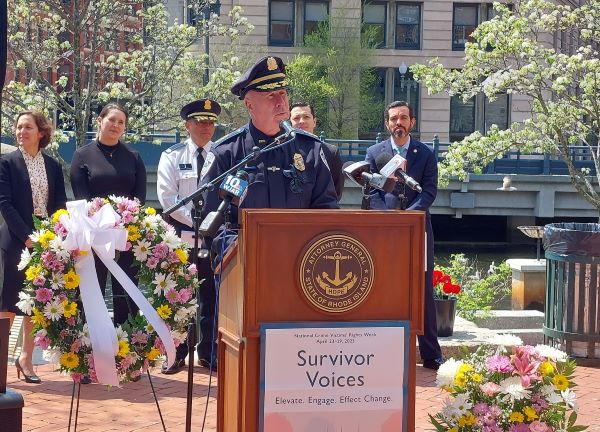 "Each year, we honor victims while recognizing and celebrating advocates and service providers," said Woonsocket Police Chief Thomas Oates. "Crime has a tremendous impact on victims, their families, and our community, and taking the time thank to those individuals who provide crucial assistance and services to survivors is important."
"Nearly everyone knows someone who has been victimized, or they themselves have been touched by crime," said Candace Johndrow, Vice President of Hope Division/Lucy's Hearth at Family Service of Rhode Island. "Every year, National Crime Victims' Rights Week reminds us that there is still much to do to help victims of crime rebuild their lives and offers us all the opportunity to renew our collective commitment to reaching and supporting every victim of crime in Rhode Island.  I hope today you will all join me in doing so."
Since 1981, NCVRW has been a time to renew our commitment to serving all victims of crime, to acknowledge the achievements in victim services and allied professions, to honor those who have gone above and beyond in their service to others, and to remember crime victims and survivors.