Online tools for restaurants and bars subject to early-closing order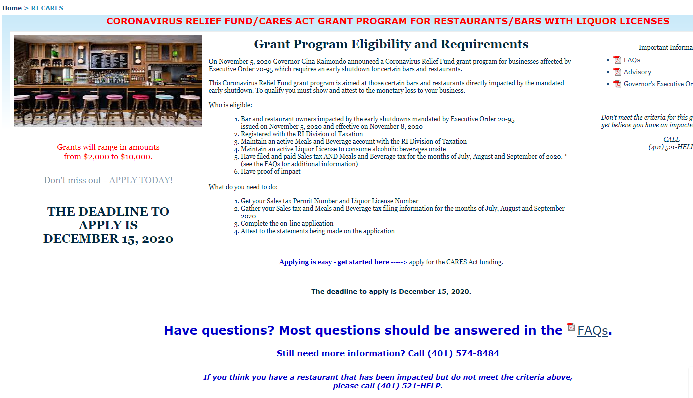 Division unveils webpage, online application form, and FAQs as part of relief program
PROVIDENCE — The Rhode Island Division of Taxation today unveiled a new webpage, online
application form, and FAQs as part of a relief program announced by Governor Gina M. Raimondo for
restaurants and bars that have been ordered to close earlier than usual because of the coronavirus
(COVID-19) pandemic.
Governor Raimondo developed the relief program to coincide with her Executive Order that mandates
early shutdown for bars and restaurants – part of a range of measures aimed at limiting the spread of
the coronavirus and reducing the rising number of coronavirus cases.
Using federal Coronavirus Relief Funds, the Governor authorized the payment of grants to the
impacted businesses.
Each such grant will range from a minimum of $2,000 to a maximum of $10,000. Details of the new
program – including an online application form, answers to frequently asked questions, and contact
information – are available at: http://www.tax.ri.gov/RICares/. (See screenshot below)
A screenshot of the new webpage is below: