ORGAN DONOR FROM PAWTUCKET TO BE HONORED ON THE 2023 TOURNAMENT OF ROSES PARADE DONATE LIFE FLOAT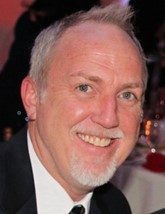 HUSBAND OF JOSEPH KEENAN TO DECORATE FLORAL PORTRAIT AT PUBLIC EVENT
MONDAY, NOVEMBER 14, 1:30PM
PAWTUCKET CITY HALL
New England Donor Services is pleased to announce that a floral portrait of Rhode Island organ donor Joseph Keenan will be featured on this year's Donate Life Tournament of Roses Parade float.  Joseph died suddenly in 2018 at the age of 48 and was an organ donor. Through the donated gifts of his heart, liver and kidneys, Joe saved and healed the lives of three others.
Joe's husband, Billy Partain, will finish a "floragraph" image of Joe made of floral and natural materials that will then be shipped to Pasadena, California for inclusion on the parade float on New Year's Day.
The Donate Life float is part of a national initiative to help share the importance of organ, eye and tissue donation with millions of people, who either visit Pasadena or tune in to watch the Rose Parade every New Year.
The 2023 Rose Parade theme, Turning the Corner, celebrates the opportunity of rising above and embracing a fresh start, full of hope and joy. With the Parade theme in mind, the 2023 Donate Life float, Lifting Each Other Up, celebrates the power of organ, eye and tissue donation, with donors and recipients working together to support one another. A spectacular Chinese street dragon is the centerpiece of the float. They are considered a sign of good fortune and strength. Dragons bring prosperity and abundance to everyone. The colorful dragon weaves through flowering trees, lanterns and fans, and is emblazoned with 44 memorial floragraphs, representing those who have given the gift of life.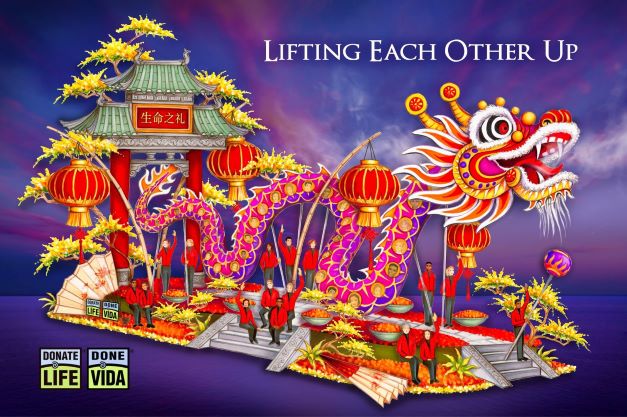 As the world's most visible campaign to inspire organ, eye and tissue donation, The Donate Life Rose Parade® float inspires viewers to help the over one million people in need of organ, eye or tissue transplants each year. Register today to become an organ, eye or tissue donor by visiting DonateLife.net
For additional information about the Tournament of Roses, please visit the official website at www.tournamentofroses.com.