Mayor Smiley Announces Oscar Perez as the 38th Chief of the Providence Police Department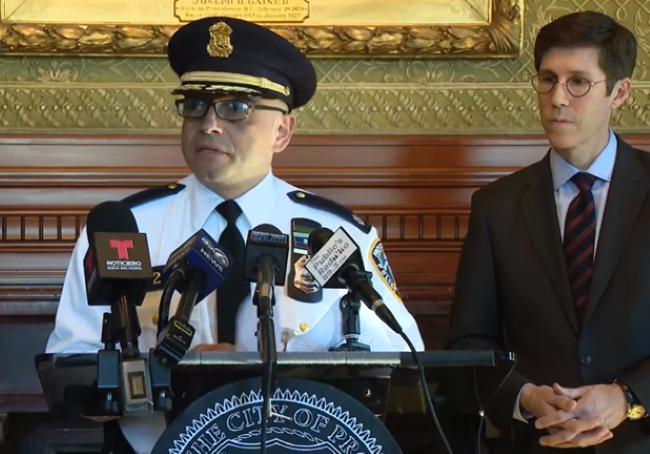 https://fb.watch/iC8q0JfchP/
Perez becomes the first Latino to serve as Chief of Police for the City of Providence
PROVIDENCE, RI– Mayor Brett P. Smiley today announced that Commander Oscar Perez will serve the City of Providence as the 38th Chief of Police, the first-ever Latino to hold that role.
"Throughout his nearly 30-year tenure and certainly in this interview process, Chief Perez has demonstrated he is the dedicated public servant that can foster strong relationships within the community and is lasered focus on the quality-of-life issues our residents identified as top priorities for the next Chief," said Mayor Brett Smiley. "I am excited for the work we will do together to make Providence safer for our residents, businesses and visitors."
Mayor Smiley is deeply committed to increasing public safety and believes that investing in strong community relations will help achieve this goal. Chief Oscar Perez has been a member of the Providence Police Department for 29 years, beginning as a Patrol Officer and most recently serving as Deputy Chief of the Providence Police Department where he oversees daily operations and administration of all police services and functions of PPD. In his tenure, Perez was a District Commander for South Providence and developed the PPD's Community Relations Bureau, implemented a department-wide community policing bureau policy and spearheaded several police community relations initiatives.
"Serving as Chief of Police for the city that welcomed me so many years ago and that has become my home is the honor of a lifetime," said Chief Oscar Perez. "I am excited to give back to my community, to work with my colleagues in uniform to provide them with the proper training and resources, supporting our officers' health and wellness, and to get to work on the big issues- decreasing gun violence, preventing crimes, supporting our youth and improving the quality-of-life in our city."
This public search process for police chief was based on best practices from across the country and included an initial screening, interviews with the mayor, and participation in a public forum that occurred on February 8 where finalists were asked moderated questions from Providence residents, businesses and community members.
Perez is a proud immigrant from Medellin, Colombia who came to Providence at the age of 13. He attended and graduated Providence Public Schools.