Pawtucket Announces Second Installment in the Pawtucket Promotes Series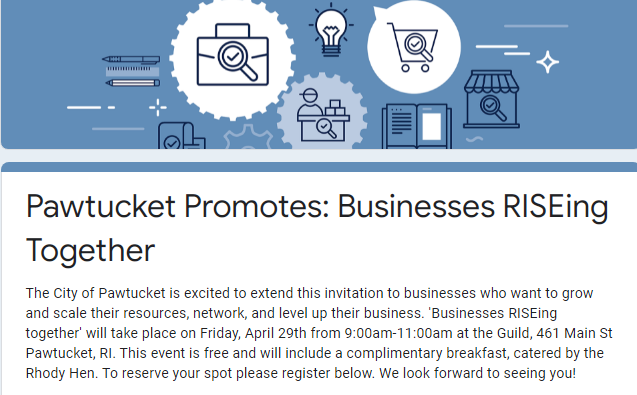 PAWTUCKET– The City of Pawtucket Commerce Department, in partnership with Bank Newport, held the first event in the Pawtucket Promotes series, Pawtucket Promotes: Women in Business, as an event to highlight women owned businesses and celebrate Women's History month.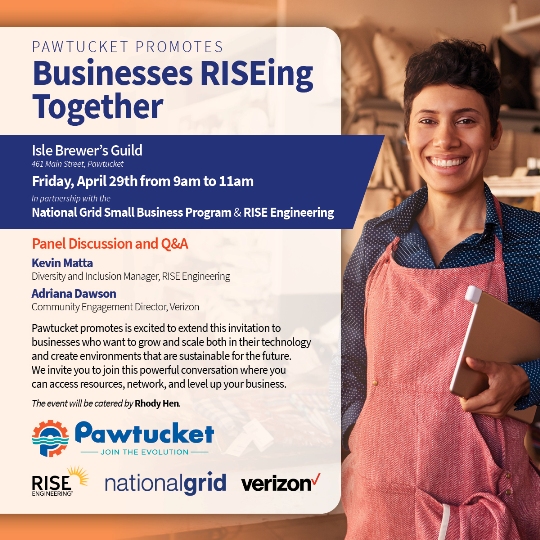 "I was so pleased to see all of the attendees and wanted to thank each of the panelists for sharing their stories," said Mayor Donald R. Grebien. "Thank you to Bank Newport for sponsoring the event and all of the panelists, attendees, and Pawtucket Commerce and Planning Department staff for putting together such a great panel discussion. I am happy that we continue to promote and support our local small businesses."
Panelists included Stacey Riendeau of Bake My Day, Lorraine Sena of the Bucket Nutrition, Carmen Monteiro of 10 Rocks Tapas Bar, and Charna Ethier of Providence Perfume moderated by Carmen Dias-Jusino, Vice President of Community Development for Bank Newport. The event was held at Atrium on Main in Pawtucket and catered by Plouffe's Diner and Pub.
"Our goal really is to highlight our local businesses here in the City," said Pawtucket Commerce Director Sandra Cano. "We are looking forward to future events and thank Bank Newport for their sponsorship of the first in our series. We are looking to do a number of these events and promote various industries."
During the event, the Commerce Department announced the next event in the series to be held at the Isle Brewer's Guild (461 Main Street, Pawtucket) on Friday, April 29th from 9am to 11am, in partnership with the National Grid Small Business Program and RISE Engineering, entitled Pawtucket Promotes: Businesses RISEing Together. The event will be catered by Rhody Hen. Those interested in attending are encouraged to visit https://forms.gle/Z3AkVuanicpcNYqv6 to register for the event.
Pawtucket Promotes is excited to extend this invitation to businesses who want to grow and scale both in their technology and create environments that are sustainable for the future. We invite you to join this powerful conversation where you can access resources, network, and level up your business.
"All of our small business sectors are important and we hope that highlighting in this series will both bring awareness to the businesses along with helping them to recover from the still ongoing effects of the COVID-19 pandemic," continued Mayor Grebien.
Stay tuned to the City of Pawtucket website at www.pawtucketri.com for more information on additional upcoming Pawtucket Promotes events.
If your business is interested in being a sponsor for a Pawtucket Promotes event, please contact Sandra Cano at scano@pawtucketri.com for more information.