PAWTUCKET HOLDS FIRST OF FOUR MUNICIPAL VACCINATION CLINICS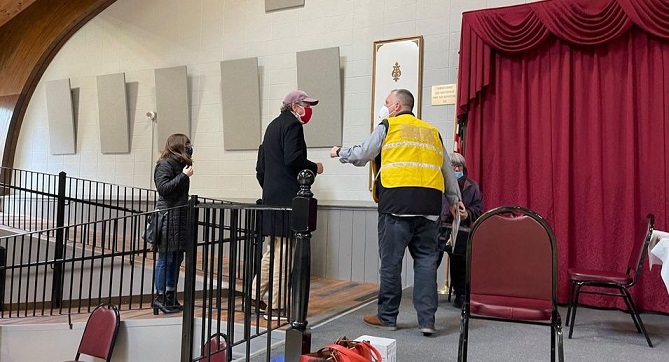 This past Saturday, February 20th, the City of Pawtucket held its first of four municipal vacci nation clinics at St. Anthony's Parish Center in Pawtucket. The clinic served over 480 elderly Pawtucket residents, most of which were over the age of 75. 
"Thank you to all of the volunteers, Lieutenant Governor McKee, Pawtucket EMS and Fire, our Public Health and Equity Leader and her COVID-19 response team, and all of the residents who came out to get vaccinated on Saturday," said Mayor Donald R. Grebien. "It is because of all you that this clinic went so smoothly and was such a success. We look forward to continue to.
"We have been able to fill up our upcoming clinics for the next three weekends with those over the age of 65," said Public Health and Equity Leader Elizabeth DaMoura Moreira. "We hope to see the same success we had at this weekend's event continue for the next three clinics and the second dose clinics for these vaccinations we are giving out now." vaccinate our residents."
Residents receiving a vaccination at the clinics on February 20th, February 27th, March 6th, and March 13th will be automatically enrolled by one of the Pawtucket volunteers in their second dose appointment for the corresponding date while waiting in observation after they have been vaccinated. 
If you or someone you know is interested in signing up for a vaccine appointment or receiving more information for when you qualify, please visit http://www.pawtucketri.com/COVID19 to fill out the Request for Information form to be alerted when new clinics are announced and if you are eligible.