Pawtucket International Women's Day Committee 9th Annual Celebration promotes: Embracing Equity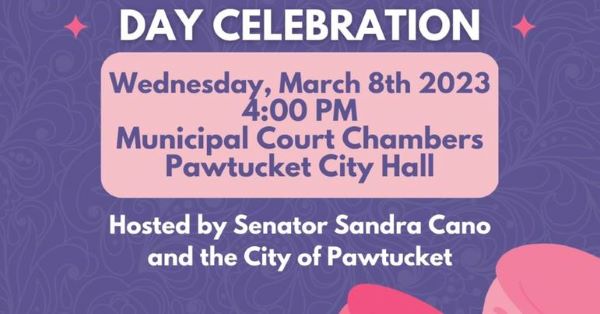 PAWTUCKET – On March 8th, International Women's Day, The Pawtucket Women's History Month Committee and Senator Sandra Cano celebrated their 9th Annual event in the City of Pawtucket.
This year, we celebrated a total of 16 female students from across the Pawtucket School District including elementary, junior, and high schools. Students were selected by Erin Dube, Chair of the Pawtucket Women's History Month Committee, who prompted students to write an essay on this year's theme: #EmbraceEquity. "Our schools and city continue the tradition of joining together to mark International Women's Day in the city. All of the students recognized at the event are leaders representing their schools, in both words and actions, to celebrate this day" said Erin Dube.
Our three high school honorees were also chosen to participate in this year's Legislative Day by Senator Cano (District 8)and Representative Alzate (District 60). "Every year, I look forward to celebrating this day with our community and reminding our young girls and women across the State of Rhode that their voices mean something and that it holds so much value" said Senator Cano. "We, as women, have come a long way and it's critical that we take moments like this to celebrate. I thank the members of the committee and Chair Erin Dube for all of their hard work in making the celebration a success."
List of our 2023 Honorees:
Leyna Mulligan, Agnes E. Little Elementary
Chanel Mowry, Elizabeth Baldwin Elementary School
Kasandra Chen-Gomez, Potter Burns Elementary School
Dae'lyn Howard, Flora S. Curtis Elementary School
Kennedy Bleich, Curvin-McCabe Elementary School
Melissa Dos Santos, Henry J. Winters Elementary School 
Arianna Patino, Fallon Memorial Elementary School
Janeffa Da Cruz Lomba, M. Virginia Cunningham Elementary School 
Mariana Garcia, Nathanael Greene Elementary School
Jannelle Velez, Francis J. Varieur Elementary School
Alexandria Greenman, Lyman B. Goff Middle School
Kehinde Daramola, Samuel Slater Middle School
Cassandra Morais, Joseph Jenks Junior High School
Hawawou Barry, William E. Tolman High School
Catherine Nobre, Charles E. Shea High School
Princess Appiah, Jacqueline M. Walsh School
"Although our work to create a more equitable society is far from complete, this event continues to remind us that we are one step closer. Congratulations to all the honorees and may we continue to honor the efforts of the trailblazing women leading the charge in our community" said Pawtucket Mayor Donald R. Grebien. 
Our event concluded with a performance by Alisha A. Pina and baked goodies from the women-owned Pawtucket bake shop, Bake My Day.