PAWTUCKET PROMOTES: WOMEN IN BUSINESS FORUM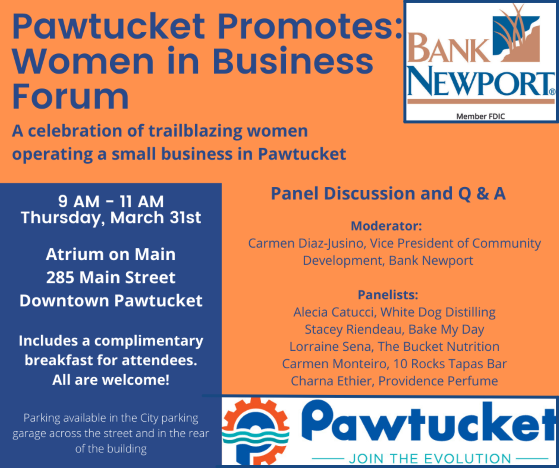 The City of Pawtucket Commerce Department is pleased to announce a new series of forums highlighting our local businesses. "Pawtucket Promotes" highlights businesses and industries that are active in the community. The first forum, sponsored by Bank Newport, will spotlight trailblazing women operating small businesses in Pawtucket.
The event will consist of a panel discussion and question and answer session. All are welcome. Complementary breakfast included for attendees.
Carmen Dias-Jusino, Vice President of Community Development for Bank of Newport will serve as the moderator with panelists including Alecia Catucci of White Dog Distilling, Stacey Riendeau of Bake My Day, Lorraine Sena of the Bucket Nutrition, Carmen Viera of 10 Rocks Tapas Bar, and Charna Ethier of Providence Perfume.
Register for the event 
here