Presenting the latest single of Brenda K Starr, "Quedate"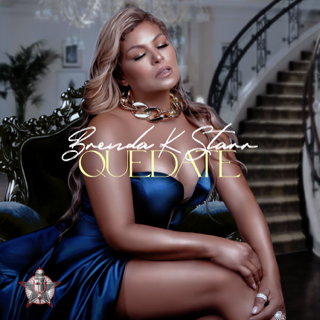 Brenda K Starr, born and raised in New York City, of Puerto Rican origin, Brenda knew from a young age that her passion was to be a singer. At the young age of 8, she was already singing and at 12 she had already added to do several television commercials, in addition to having dabbled in the theater.
As the break-dance fever grew, she Brenda joined the "Dynamic Dolls". "My dream was to sing, and I used to do it on the stairs of the building where she lived just to listen to the acoustics since it was not allowed to do it in the recording studios." Although she loved to dance, she decided to prioritize singing. And it is at the age of 14 that she meets Henry Belafonte in an audition for the soundtrack of the movie "Beat Street", in which she played herself at once. The actor was captivated by his voice, presenting it immediately to the director. musical of the film, who used two of his themes for the soundtrack of the same, and it is at that moment that he meets producer Arthur Baker, who without hesitation offered to make him a production that later helps him to get a recording contract With record label Mirage, which distributed Atlantic Records, this is how he began his musical career at a professional level.
At the end of the 80's Brenda was undoubtedly the undisputed queen of "Free Style" and "House" music. Her successes earned her a GRAMMY nomination in the genre of pop ballad with the songs "I Still Believe" and the smashing hit "What You See is What You Get." Her first song was a mega hit, which was later re-recorded by Mariah Carey, who at the time was Brenda's backup singer.
Her first Spanish album, "Te Sigo Esperando", was certified Gold and later became a Platinum certified by the RIAA. This success was followed by three albums in Spanish, "No Lo Voy A Olvidar", "Pétalos de Fuego" and "Temptation", being critically acclaimed, which earned him two Latin Billboard Awards in the Hot Latin Track category of the Year – Vocal Duo and another in the category Tropical / Salsa Airplay Track of the year, Female.
After that success, she takes a break to dedicate more time to her family life and to reassess her future plans in her musical career. It is here when a new stage in her career begins, creating her radio program titled "Under the Stars with Brenda K Starr", which aired on Sunday nights on Mix 102.7 in New York, giving her the opportunity later to be the host. from the morning show "Rumbon 92" on Sirius XM Satellite Radio.
After this break she decides to resume her musical career and for this she surrounded herself with close friends and her family. From this union comes a new musical production, "Atrévete A Olvidarme". Who again put her on her musical staff, being her nominated for several awards such as Latin Billboard and Premios Lo Nuestro. Providing it a great success in Latin America.
"Quedate" is the first single that is part of her new musical production that will soon be on the market, the song has been recorded in the Salsa genre.