Progreso Latino, Inc. named Champion in Action for Mental Health Support & Education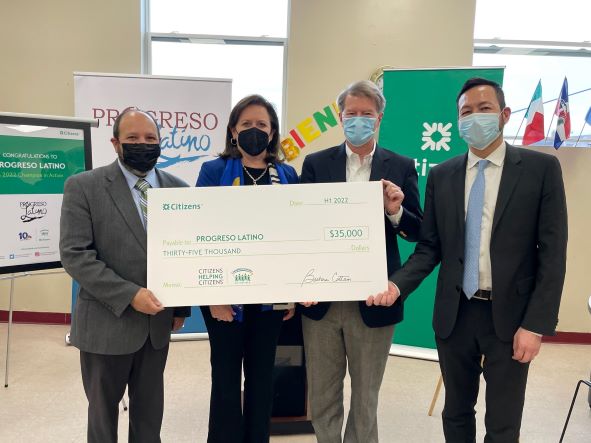 Citizens and NBC 10 provide $35,000 in funding, communications and volunteer support
Rhode Island (February 24, 2022) – Progreso Latino, Inc., a nonprofit organization that develops and provides transformational programs to assist Rhode Island's Latino and immigrant communities so they can achieve their civic goals, reach greater self-sufficiency and socio-economic progress and advance personal growth and social change, has been named a 2022 Champion in Action® in the category of Mental Health Support and Education. The award, announced jointly by Citizens and NBC10, includes $35,000 in unrestricted funding, as well as promotional and volunteer support for the organization's outstanding work.
Progreso Latino, Inc. and their staff address the lack of bilingual and bicultural mental health professionals in the diverse communities they serve by providing emotional support groups, advocating for the healthcare of individuals in crisis and hosting groups that bring awareness and teach holistic care of mind and body. Additionally, through their Bridge to Careers (B2C) program, Progreso Latino, Inc. has initiated a Behavioral Bridge Course that provides adult students the opportunity to learn the foundations of mental and behavioral health in a bilingual context, culminating in the ability to become a certified Mental Health First Aider. In Fall 2020 and Spring 2021, B2C hosted two cohorts and certified 23 students with a 96% success rate. This award will help Progreso Latino, Inc. continue to improve the number of employable bilingual and bicultural professionals, progress in destigmatizing mental health and directly help clients going through a mental health crisis.
"Progreso Latino, Inc. is playing a critical role in bringing mental health support and education to the forefront for diverse communities," said Barbara Cottam, RI market executive at Citizens. "They are a true Champion in Action, always identifying innovative ways to address the greatest challenges in their community."
"Mental health issues including anxiety and depression have never been more important in our community," said Vic Vetters, vice president and general manager at NBC 10. "WJAR is pleased to see Progreso Latino, Inc. stepping up to help provide valuable service to people in need."
The Champions in Action program, now in its 20th year, has awarded more than $10 million in contributions and promotional support to 362 nonprofits across the bank's footprint. In Rhode Island, 58 nonprofits have been honored, receiving more than $1.6 million.
"The challenges low-income communities face in obtaining adequate, language-appropriate behavioral health services have exasperated during the COVID-19 pandemic. The Citizens Champions in Action program recognizes that investments in long-term reforms to systems begin in the community. Progreso Latino, Inc. is honored to be selected as a Community Champion that will focus on creating on-ramps for Latinos and immigrants interested in working within the behavioral health field," says Mario Bueno, executive director at Progreso Latino, Inc.
As a Champion in Action, Progreso Latino, Inc., will receive:
A $35,000 contribution in unrestricted funds from Citizens.
Media coverage and public service announcements from NBC 10.
Volunteer support from Citizens colleagues.
Public relations and promotional support.