Providence Mayoral Candidate Smiley Responds to Weekend Violent Incidents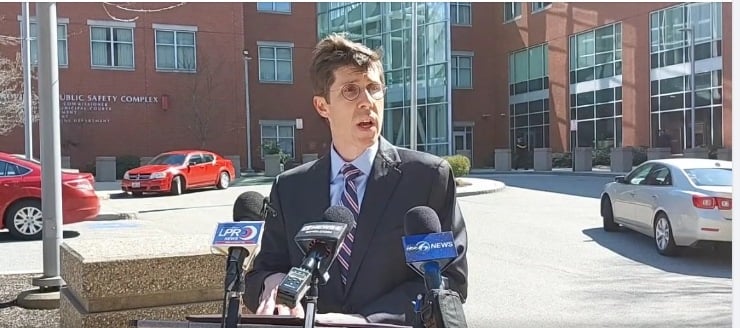 Calls on the city to allocate additional staff and resources to Gun Task Force, Investigative Unit and violent reduction efforts
PROVIDENCE, R.I. — Providence Mayoral candidate, Brett Smiley,  hosted a press conference this morning outside the Providence Public Safety Complex calling on the City of Providence to provide additional staff and resources to the Providence Police Department's (PPD) Gun Task Force and Investigative Unit. Given the recently completed police academy, Smiley calls on leadership to reallocate staff to the Task Force in order to address gun violence throughout the city, particularly ahead of warm weather when crime typically increases.
"We need to address this crime now, we can't wait until we shatter violent crime records again this year. To do that, we need a police force that has the tools, resources and support they need to do their job," said Smiley. "People feel unsafe. To fix this, we need immediate investments in our Gun Task Force and community-based efforts. We finally have the officers we need to deploy them properly and we should be focusing on this crime, the most violent crime, and ensuring that we don't experience yet another summer of senseless violent acts in our neighborhoods."
Smiley reiterated his top five public safety priorities including:
Providing the Providence Police with the tools, resources and staff they need

Rebuilding trust with the Providence Police Department

Investment in evidence-based and immediate crisis response supports in every neighborhood

Increasing local partnerships with community-based organizations that show proven success in violence reduction and behavioral health

Immediate and significant investments in opportunities for youth in the forms of employment, recreation and education
As Smiley mentioned last week at his campaign kickoff, "this isn't about crime in just one neighborhood, this is happening throughout our city and it is unacceptable. It is also complex– there is no one solution to this problem."
Smiley is also calling for community support of the recent ARPA proposal by the City to increase existing investments in violence reduction in order to increase access to behavioral health, youth employment, prevention-first policies and health-based approaches.
For more information on Brett's safe and healthy community policies visit his website.