Providence Public Schools, We Share Hope, Blue Cross & Blue Shield of Rhode Island Cut Ribbon on New Mount Pleasant High School Food Pantry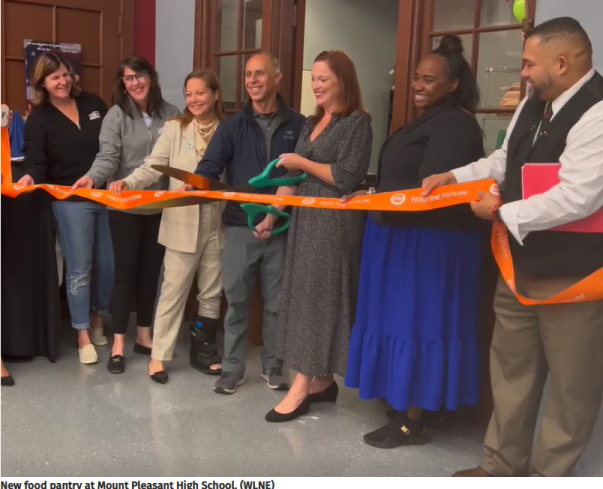 PROVIDENCE, RI – Students at Mount Pleasant High School now have improved access to fresh and shelf-stable foods thanks to the school's new Feed the Future food pantry. Today officials from the Providence Public School District (PPSD), The Rhode Island Department of Education (RIDE), Mayor Jorge Elorza, the Rhode Island food rescue organization We Share Hope, Blue Cross & Blue Shield of Rhode Island, and Gil's Appliances gathered for a ribbon cutting ceremony to formally open the new food pantry.
Over 80% of Mount Pleasant High School's students are categorized as "economically disadvantaged," according to RIDE. The goal of the food pantry is to ease the stress associated with food insecurity so students can show up for school well-nourished and ready to learn.
"The research is clear: communities of color and economically marginalized communities suffer disproportionately when it comes to food insecurity," said Commissioner Angélica Infante-Green. "Through the food pantry at Mt. Pleasant High School, we are reducing hunger, supporting learning, fostering positive student development and behavior, and promoting greater equity in our schools. Thank you to our partners and the generous school and community members meeting families where they are, and working to ensure our students can thrive."
"We are thrilled to join forces with Providence Public Schools to create a welcoming space where students struggling with food insecurity have access to food and support," added We Share Hope Executive Director Johanna Corcoran.
Founded in 2008, We Share Hope retrieves surplus food from partners in the food industry and distributes that food to non-profit groups throughout Rhode Island. The Mount Pleasant food pantry project was made possible by a $10,000 grant from Blue Cross & Blue Shield of Rhode Island to secure shelving and food, as well as a refrigerator and chest freezer provided by Gil's Appliances for cold storage of produce, dairy, and frozen items. The pantry will be staffed by Mount Pleasant High School employees who will facilitate distribution of food.
"We're honored to partner with We Share Hope's opening of a Feed the Future food pantry at Mount Pleasant High School," said Carolyn Belisle, Managing Director of Corporate Social Responsibility at Blue Cross & Blue Shield of Rhode Island. "Nothing is more important than addressing food insecurity among children and families. Without healthy food, it's impossible to thrive in school or at home. Improving the health and well-being of Rhode Islanders in diverse and economically disadvantaged communities is key to our vision and mission."
The food pantry is available to any student at Mount Pleasant and their immediate family. The school is finalizing the pantry's operating hours and will post the schedule on the school website, in the school newsletter, on signage in the building, and will send the information in direct communications to families. Any community member who wishes to donate to the food pantry is encouraged to contact the school for details.
Earlier this year, We Share Hope partnered with PPSD, Sodexo, and school faculty to open a similar food pantry at Central High School.