Providence Warwick Convention & Visitors Bureau, Rhode Island Foundation and Community Partners Kick Off Buy Local RI Campaign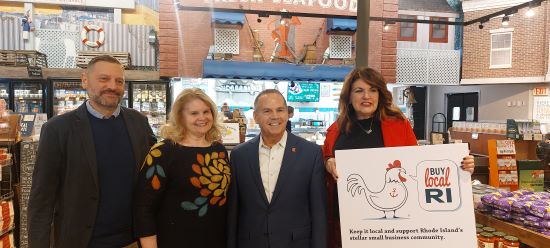 Iconic brand, now managed by the PWCVB, encourages shoppers to support local businesses 
PROVIDENCE, RI — The iconic Buy Local chicken will have a new place to roost as the Providence Warwick Convention & Visitors Bureau (PWCVB) announced Tuesday it is officially managing the Buy Local RI brand. The PWCVB was joined by the Rhode Island Foundation, BankNewport, Dave's Fresh Marketplace, Frog & Toad and community partners to make the announcement and kick off the Buy Local RI campaign ahead of the holiday season.
The campaign, supported by Dave's Fresh Marketplace and BankNewport, helps local businesses by encouraging shoppers to think local, especially as holiday shopping ramps up.
"For the past three years the PWCVB has collaborated with the Rhode Island Foundation on this campaign and we are grateful that they have entrusted us with the brand," said Kristen Adamo, president and CEO of the PWCVB. "Buy Local RI has a rich history of helping our local businesses and boosting our local economy. Shopping locally also means supporting the families that own these businesses. They help to make Rhode Island so special and I am thankful to have the partnership of David Cicilline and the Rhode Island Foundation in this important effort."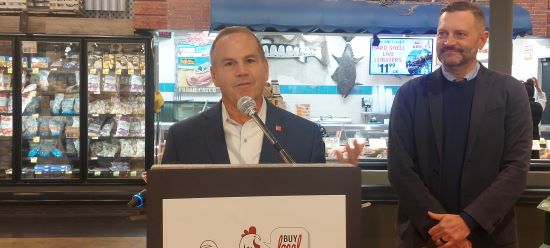 "Shopping and dining locally has the potential to pay off in a big way. As these companies flourish, they will put people to work. But supporting local shops does more than just create jobs. Thriving local businesses support Little Leagues, sponsor fun runs for charity, donate to PTOs, and all the other little things that make our state a true community," said David N. Cicilline, president and CEO of the Rhode Island Foundation, which launched the campaign in 2014 before handing it off to the PWCVB in 2020.
According to a study commissioned by the Foundation, shifting just 10 percent of Rhode Island shoppers' purchasing from chains to independent, locally owned businesses has the potential to add $373 million to the state's economy. The study estimates that 57 percent of spending with locally owned retailers stays in the state's economy compared to just 13.6 percent of spending at major national chains.
Tuesday's announcement took place at Dave's Fresh Marketplace, a locally owned and operated grocer with 10 stores across the state.
"Dave's Fresh Marketplace is proof that a small business with good values can thrive in our small state," said Susan Budlong, Marketing and Communications Director for Dave's Fresh Marketplace. "We have had so much support from our communities over the past 54 years, growing slow and steady by focusing on quality and people. The food business is about people – as it brings us together to celebrate, congratulate and provide sustenance. We are proud to be a small part of Rhode Island's culture, and look forward to supporting more local food venues, entrepreneurs and our communities."
BankNewport, one of the nation's longest-standing community banks with 19 branches throughout Rhode Island, is another supporter of the Buy Local RI campaign.
"BankNewport is proud to support Buy Local RI again this holiday season," said Wendy Kagan, Executive Vice President and Chief Engagement Officer of BankNewport. "From restaurants and shops to other unique Rhode Island spots, we recognize the importance of supporting the small businesses that make our communities special."
The PWCVB will be spearheading a targeted marketing campaign that includes advertising, social media and in-store promotions. To help shoppers think outside the box, the Bureau has collaborated with the other tourism regions in Rhode Island to compile a list of "100 Ways to Buy Local RI" with suggestions from all corners of the state.
"Here in Rhode Island, we are fortunate to have a diverse array of small businesses right in our backyards, no matter where you live," said Christine Walsh Phillips, Senior Director of Community Affairs for the PWCVB. "From Woonsocket to Westerly, you'll find ways to support locally owned businesses. The PWCVB is proud to promote Rhode Island businesses during the holiday shopping season and we plan to continue this effort with additional marketing promotions year round."