PVDFest Parade to Honor Historic Black Artist and Providence Art Club Founder Edward Mitchell Bannister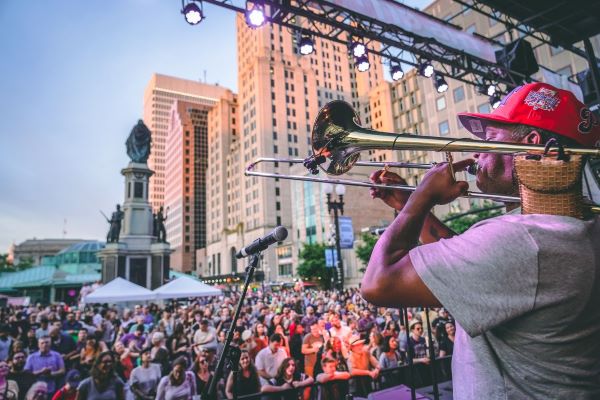 Helen Baskerville-Dukes, Gonzalo Cuervo Recognized as Parade Grand Marshals 
PROVIDENCE, RI— Mayor Brett P. Smiley today announced the return of the PVDFest Parade, a signature PVDFest spectacle festival goers of all ages can participate in, on Sunday, September 10. This year's parade will honor Edward Mitchell Bannister, the 19th-century Black artist who was a prominent member of the Providence art community, one of the founders of the Providence Art Club, and a leader in the history of American landscape painting. Mayor Smiley has also named Helen Baskerville-Dukes and Gonzalo Cuervo as this year's Grand Marshal honorees.  
"Providence's vibrant arts culture is rooted in the city's iconic artists from past and present. I'm thrilled that this year's PVDFest Parade will honor a beloved and renowned artist from Providence's history, Edward Mitchell Bannister." said Mayor Brett Smiley. "The PVDFest parade is a cherished part of the festival experience and I encourage all of our residents and visitors from near and far to join us in celebration of the local artists that make the Creative Capital so special." 
The PVDFest Parade begins at the 195 District Park in front of the CIC building at 12:30PM, brings festival goers through Innovation Park, over the Providence River via the Michael Van Leesten Pedestrian Bridge, and concludes at Market Square at approximately 1PM.  A speaking program will begin at 1:30PM at Market Square, where Mayor Smiley will declare September 10 "Edward Mitchell Bannister Day" and where the new sculpture of Edward Bannister will be unveiled.  
The Edward Bannister sculpture is the culmination of a two-year collaboration between the Bannister Community Art Project (BCAP) and The Providence Art Club. Bannister was a 19th-century artist of African descent who was a prominent member of the Providence art community, one of the founders of the Providence Art Club, and a significant figure in the history of American landscape painting. The sculpture, by Gage Prentiss, is a bronze life-sized depiction of Bannister sitting on a public bench looking out at the Providence River, while sketching in his sketchbook. Passersby will be able to sit with the sculpture and learn about his life and work. 
"The parade and our wonderful Mayor's support embody the intent and spirit of this project," said BCAP Co-Chair Jennifer Davis-Allison. "Having begun as a celebration of Bannister, the artist, through an important public sculpture, BCAP has become a catalyst for much more. It has enlivened dialogue, fostered unique collaborations and engendered a deepening sense of connectivity within and through the RI arts community. We hope to continue to expand and provide a different way of seeing and connecting to our past and present with aspirations for how we might frame a more enriched future through the lens of art." 
"We are tremendously honored and delighted to be partnering with Mayor Smiley and the City of Providence during this year's PVDFest," said BCAP Co-Chair Nancy Gaucher-Thomas. "The fact that the City is proclaiming 'Edward Mitchell Bannister Day' to honor this seminal artist of color and our local history is a singular moment for the community. We are anticipating young and old will join us as we sing, dance and celebrate our colorful city of Providence as they join us in our joyful parade." 
This year's Grand Marshals are civic leaders dedicated to supporting and elevating Providence's revered arts culture. Among her many accomplishments, Providence native Helen Baskerville-Dukes is the Founder and Chair of Juneteenth RI, the Executive Director of the Mount Hope Community Center, a playwright, and champion for education and equity. Gonzalo Cuervo is a Providence civic leader, community organizer, writer and arts booster, who serves on the boards of the Providence Cultural Equity Initiative, the Latino Policy Institute, the Roger Williams Park Conservancy, and Teatro ECAS, a performing arts organization he's supported and helped grow over the past two decades. Together, the 2023 PVDFest Grand Marshals have contributed more than forty years of dedication to civic life.  
"We're thrilled to include Helen and Gonzalo as Grand Marshals of the PVDFest Parade, and celebrate the very best of Providence with them," said Director of Art, Culture and Tourism Joe Wilson Jr. "The PVDFest Parade is an expression of the joy and pride we have for Providence's cultural heritage and its creative champions past and present. Helen and Gonzalo elevate and celebrate all of the voices that reflect our vibrant and diverse community and represent the forces for good that make our beloved city so divine in every way." 
The PVDFest parade will also include performances by several local artists, including the Providence Drum Troupe, Community MusicWorks, and more. Festival goers are encouraged to join the parade dressed in their best festival flair and prepared to march, sing, and celebrate all the things that make Providence special. 
PVDFest is made possible in large part by the generous sponsors who continue to support Providence's creative culture year-round, including the Providence Tourism Council, RI Commerce, The Boston Globe Rhode Island, Waste Management, Breeze, ProvPort, Waterson Terminal Services LLC, WPRI, iHeart Media, Delta Dental, Dimeo Construction Company, Rhode Island Energy, RISD, Amica, Fidelity Investments, Coca-Cola Beverages Northeast, Cornish Associates, Evolis, First Bristol Corporation/Hampton Inn and Homewood Suites, Johnson & Wales University, BankNewport, The Foundry, PLDO Strategies, Withum, Verizon, Wexford Science & Technology, AARP Rhode Island, Bird Rides, Half Street Group, Matunuck Oyster Bar, Providence Monthly, Public's Radio, Regency Plaza/Chestnut Hill Realty, RI Monthly, RIPTA. In addition to sponsors, PVDFest relies on the contributions of the hard-working volunteers to make the event a memorable experience for everyone. If you can volunteer for a few hours or a whole day, please sign up here. 
More information about PVDFest will be released in the coming weeks leading up to the waterfront celebration. For more information about PVDFest, please visit PVDFest.com and follow the festival on Facebook, Instagram, and Twitter.