Ranglin-Vassell: $15 minimum wage is a victory, but working people need much more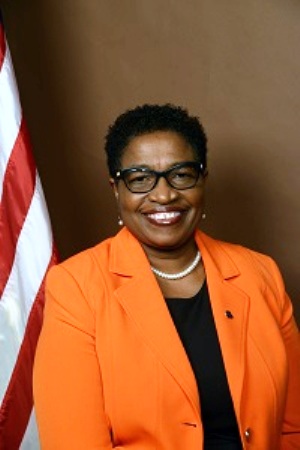 STATE HOUSE – Rep. Marcia Ranglin-Vassell is celebrating the House passage of the legislation she is cosponsoring to raise Rhode Island's minimum wage to $15 over the next four years, saying the move is a critical progress toward ensuring livable wages for working people.
At the same time, she said, it's important to recognize that people at the bottom of the wage scale, including tipped workers to whom this bill does not apply, will continue to struggle to support their families in a state where there is not a single community where a person working full time at $15 an hour can afford an average two-bedroom apartment.
"We were able to pass this bill because of the years and years of hard work of so many Rhode Islanders who have been advocating for economic justice. And while I want to take this moment to thank them for their hard work and congratulate all the working people whose burdens will be lightened as this bill takes effect, we still have far to go. The 'fight for $15' has been going on for so long that $15 is not really a living wage anymore. $15 is the floor, not the ceiling, and we cannot and must not stop working to ensure that Rhode Islanders who work full time can make ends meet," said Representative Ranglin-Vassell (D-Dist. 5, Providence).
The bill (2021-H 5130A) passed by the House Thursday, increases the minimum wage to $12.25 on Jan. 1, 2022; $13 on Jan. 1, 2023; $14 on Jan. 1, 2024; and finally to $15 on Jan. 1, 2025. The bill is sponsored by Rep. David A. Bennett (D-Dist. 20, Warwick, Cranston), Rep. Anastasia P. Williams (D-Dist. 9, Providence), Rep. Joseph J. Solomon Jr. (D-Dist. 22, Warwick) and Representative Ranglin-Vassell.
The bill now goes to the Senate, which has already passed companion legislation (2021-S 0001aa) sponsored by Sen. Ana B. Quezada (D-Dist. 2, Providence).
Representative Ranglin-Vassell has made a $15 minimum wage one of her top legislative priorities since her election to the House in 2016, and has sponsored or cosponsored various forms of the bill each year.
Both as a representative in Providence and as a teacher there, she said, she is surrounded by the profound, widespread effects of poverty and the struggles of working families at the bottom of the pay scale. Kids left alone most of the time while their parents work two or three low-wage jobs. Multiple families crowded into small apartments because they can't afford rent on their own. Parents who can't take sick days because they can't afford to lose a day's pay. People who work full-time but whose wages are so low they still require government assistance.
 "I'll always remember the man and his wife who I ran into as they were coming from the supermarket. They told me two things that will remain with me forever: They weren't able to get all the things they wanted at the store; and thank you for working to raise the minimum wage," said Representative Ranglin-Vassell. "Every day is a series of difficult choices for the many, many Rhode Islanders whose wages are too low to support them. I will remain committed to the fight to end poverty and bring greater economic justice for all Rhode Islanders."