'Red Scarves Across the River' Community Art Project and RI Capitol Lighting Planned for World AIDS Day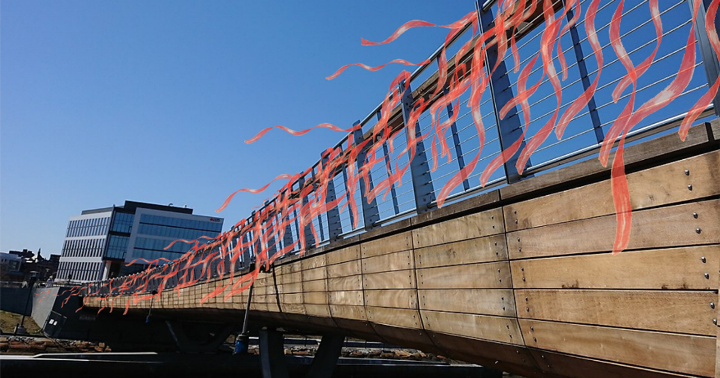 Providence, RI—AIDS Project Rhode Island (APRI) is pleased to announce "Red Scarves Across the River", a community art installation taking place between 6 AM and 6 PM on the PVD Pedestrian Bridge on December 1. APRI has a goal of collecting and displaying 1748+ donated scarves on the bridge, one scarf in honor of each Rhode Islander lost to the AIDS epidemic since 1983, for World AIDS Day.
"Started in 1988, at the height of the AIDS epidemic, World AIDS Day initially served as a day to honor family, friends, and loved ones who lost their lives to HIV/AIDS. In 2021, it is still a day of remembrance, but it's also a time to reflect on how far we have come," said Anthony Faccenda, APRI's Director. "Thankfully, due to advancements in treatment, people living with HIV now live long, healthy lives. Unfortunately, HIV stigma and discrimination persists. That's why we hope that APRI's 'Red Scarves Across the River' art installation raises awareness about HIV and serves as a reminder that there's still work to be done to combat misinformation that breeds stigma."
Nearby restaurant Plant City on Water Street will be offering a free red velvet cookie to the first 250 people who come in on December 1 wearing a red scarf to donate to the art installation effort on the bridge.
"As the owner of Plant City, a business adjacent to the PVD Pedestrian Bridge, and as an advocate for underserved communities, I fully embrace APRI's concept of this art installation," said Kim Anderson, Creator, and Co-Founder of Plant City. "The community-sourced art installation will help elevate the importance of recognizing World AIDS Day, provide an opportunity for distanced, community-participation, add value to our city's parks and recreation efforts, and draw attention to businesses like mine that value the diversity of the Providence community.
The project is accepting donations in advance at several locations around Providence, and also on-site the day of the event, including Plant City, at 334 S. Water Street and the lobby of Family Service of RI, 134 Thurbers Ave. (off Blundell Street).
All scarves donated for display for the project will then be donated to those in need immediately afterward.
"APRI's recognition of World AIDS Day has brought light to our community members affected by HIV/AIDS for 36 years, each year with attention to modern challenges, and this year's advocacy effort is no different: this community-sourced installation will provide an opportunity for socially distanced local participation," said Providence Ward 1 Councilman John Goncalves. "This project will add value to our city's recreation and parks while beginning a creative dialogue to honor those Rhode Islanders lost to the HIV/AIDS epidemic – an ever-important charge."
Day-of drop off sites on the day of the installation, December 1, include Plant City, 334 S. Water Street, or directly to an on-site APRI volunteer, located at Water Street side of PVD Bridge from 6 AM-6 PM.