Reed and Whitehouse Deliver $2 Million Federal Earmark for Boys & Girls Clubs of Providence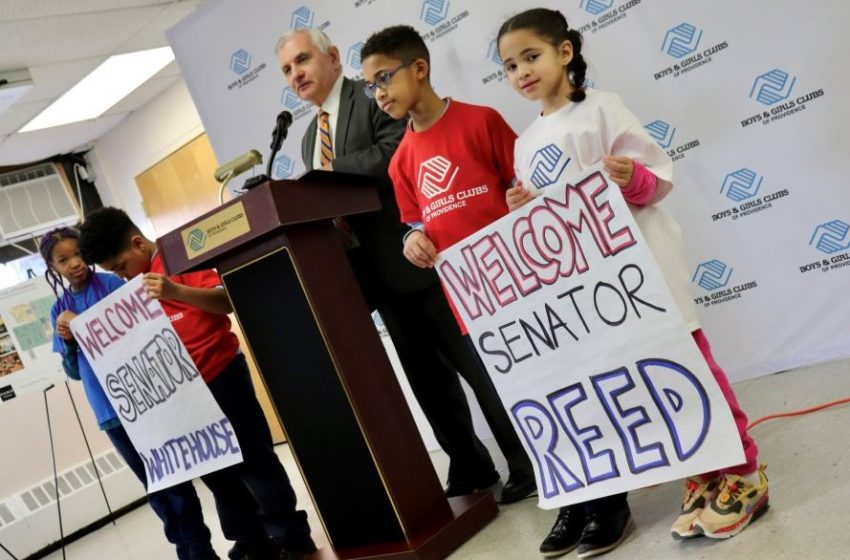 Federal funding will support the renovation of the organization's Wanskuck Clubhouse and expand access and opportunities for local youth and families
PROVIDENCE, RI – The Boys & Girls Clubs of Providence (BGCP) is getting a $2 million boost from U.S. Senators Jack Reed and Sheldon Whitehouse.
On Friday, March 10, Reed and Whitehouse toured BGCP's Wanskuck Clubhouse and delivered a $2 million federal earmark to support the renovation and expansion of BGCP facilities and programs.
At nearly 100-years-old, the Wanskuck Clubhouse is both the oldest and largest of BGCP's eight sites in the capital city. It provides before and after school child care services to seven neighborhood schools and offers a range of programs and open-door memberships for neighborhood children and teens. In large part due to its age, the building is underutilized and in need of updates; only one-third of the space is currently used for Club activities. Improvements planned include a new workforce development innovation center offering industry certification programs, a state-of-the-art teen center, and a vibrant education center for young children. The changes will help BGCP increase usage of its Wanskuck Clubhouse by nearly tenfold.
The Boys & Girls Clubs of Providence provides local youth with opportunities for social development, after school tutoring and career exploration, recreational activities, and promotes healthy lifestyle choices. The new federal funds, which Reed and Whitehouse secured in the Fiscal Year 2023 Consolidated Appropriations Act (P.L. 117-328), will help transform and expand the Wanskuck Clubhouse in the city's North End.
"The Providence Boys and Girls Club is a tremendous community resource that has served generations of kids throughout the city.  This federal funding will help its Wanskuck branch serve more kids now and in the future.  I'm glad to be on the Appropriations Committee so we can deliver these federal funds along with Senator Whitehouse to upgrade this facility and help it continue its vital mission.  The Boys and Girls Club is a community hub that brings people together and gives kids a safe place to play and have fun while learning how to become upstanding citizens, good neighbors, and the importance of giving back to the community," said Senator Reed.
"The renovation of the Providence Boys and Girls Club's Wanskuck Clubhouse will expand opportunities for kids in Providence," said Senator Whitehouse. "I am pleased to secure federal funding that will help kids meet their full potential and invest in a community institution."
During their visit, the senators toured some of the engaging educational and recreational programs available for the many kids and teens who spend time at the Wanskuck Clubhouse each year. Among the activities hosted on Friday was a session delivered by Studio Playground for elementary-age students that integrated arts education with social-emotional learning. Down the hall, another group of children took part in an open aquatics lesson under the supervision of trained BGCP lifeguards.
The senators were also able to tour underutilized areas of Wanskuck that are set to be transformed into flexible space for expanded programming with the help of the earmark they secured. As hungry teens began to arrive after local middle and high schools got out of class, the senators concluded their tour by joining Club members as they dined on an early dinner as part of BGCP's meals program. The program is made possible thanks to federal funding and provides more than 100,000 meals to local kids annually.
"This federal earmark is a gamechanger for our organization and a significant investment in the youth of Providence and their futures – it's impossible to fully express our gratitude to Senator Reed and to Senator Whitehouse for what they're helping to make possible," said Nicole Dufresne, Chief Executive Officer, BGCP. "Our work is all about increasing the number of children we serve and expanding college and career opportunities for our teens, propelling them toward a brighter future."