Reed Applauds Raimondo Plan to Exercise 'Upside Sharing' as Part of CHIPS Law Implementation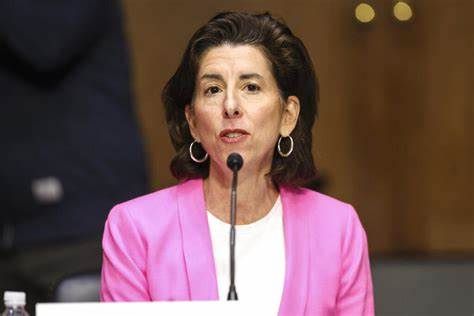 WASHINGTON, DC — With U.S. national security at stake, the U.S. government is getting set to invest $52 billion to develop advanced computer chip manufacturing plants across the United States.  U.S. Senator Jack Reed (D-RI), the Chairman of the Senate Armed Services Committee, says boosting domestic semiconductor manufacturing is critical to strengthening America's national defense.  Reed, who also serves on the Senate Banking Committee, has worked to ensure U.S. taxpayers are financially protected and fairly compensated by private companies that profit from this significant taxpayer investment.
The Creating Helpful Incentives to Produce Semiconductors and Science Act of 2022 (CHIPS Act), which President Biden signed into law on August 9, 2022, is designed to boost U.S. competitiveness, innovation, and national security by reducing America's dependency on foreign suppliers that today produce the bulk of high-tech chips needed for appliances, cars, electronics, and defense technology.  The CHIPS law offers financial incentives to build domestic semiconductor plants (known as 'fabs') that would otherwise have gone overseas, as well as funds to boost domestic research and development, regional tech hubs, and workforce training associated with high-tech chip-manufacturing.
When the need for the federal government to support private industries has arisen during emergencies such as the financial crisis or COVID-19, Senator Reed has led efforts to ensure that taxpayers get a fair return on their investment.  The upside sharing requirement of the CHIPS program, which Commerce Secretary Gina Raimondo plans to implement, is based on a concept Senator Reed first pioneered in 2008 during consideration of the Troubled Asset Relief Program (TARP) and the CARES Act and pushed for as part of the CHIPS Act.  Companies that receive over $150 million in direct federal funding and realize future windfall profits will be required to share a portion of future returns that exceed their projections above an established threshold.
Any upside sharing proceeds the federal government receives will go to support the purposes of the CHIPS Act and strengthen the U.S. semiconductor ecosystem.  Upside sharing will help ensure that CHIPS funds promote U.S. competitiveness and bolster domestic semiconductor manufacturing.
"The CHIPS Act is about strengthening our national security, economy, and supply chains.  It's not a free handout for multi-billion dollar tech companies.  I commend the Biden Administration and Secretary Raimondo, especially, for taking steps to protect taxpayers and ensure they get the best possible return on investment.  Upside sharing ensures taxpayers will fairly and rightly get a piece of unexpected profits from smart U.S. investments.  There is no downside for companies that participate because they only have to share a portion of future profits if they do exceedingly well," said Senator Reed, who stressed the importance of upside sharing to Secretary Raimondo and others over the years.
Reed worked on a bipartisan basis to secure warrants when federal funds were needed for private companies as part of the Troubled Asset Relief Program (TARP) and in the CARES Act bailout of the airline industry. As a result of the warrants provision in TARP, nearly $10 billion was returned to taxpayers as compensation for their extraordinary efforts to stabilize the financial system.  The Treasury Department has not yet exercised its airline industry warrants.  So far, the value of those warrants has fluctuated along with the stock prices, and taxpayers have stood to gain as much as $1 billion from their holdings of these warrants.
The initial funding opportunity announced by the Commerce Department today seeks applications for projects involving leading-edge, current-generation, and mature-node semiconductors.  The Commerce Department will release funding opportunities for semiconductor materials and manufacturing equipment facilities in late spring and one for R&D facilities in the fall.