Reed Backs $200B in Federal Child Care Funds & Universal Pre-K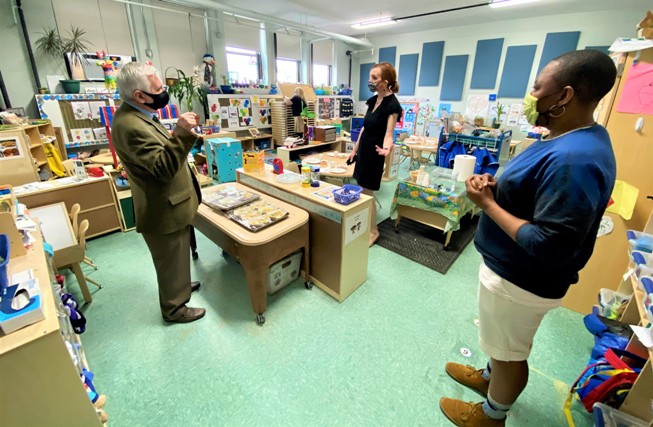 Sen. Reed backs Biden Admin plan that would direct federal funds toward universal pre-K for all three- and four-year-olds through a national partnership with states
Reed, a cosponsor of the Child Care for Working Families Act, which would ensure access to high-quality, affordable child care for working families and improve wages for child care workers says the Biden Admin's pre-K proposal could save the average RI family with a preschooler over $10,000
PROVIDENCE, RI – Citing the importance of pre-K in preparing kids for success in the classroom – and the possibility of millions of dollars in future federal support to strengthen and expand Rhode Island's pre-K offerings – U.S. Senator Jack Reed is calling for publicly funded pre-K to be made available to all families of three- and four-year-olds who want it.
Today, at the Genesis Center in Providence, Senator Reed joined early childhood educators and advocates to discuss the Biden Administration's $200 billion pre-K proposal and what it could mean for Rhode Island.
According to a report card from the National Institute for Early Education Research (NIEER), based at Rutgers University, Rhode Island gets high marks for the quality of its pre-K program, but the state is ranked 32nd in terms of pre-K access.
Currently, RI Pre-K serves over 1,800 children in 16 communities across Rhode Island using a mixed-delivery model comprised of Head Start programs, local schools, and community-based childcare providers.  RI Pre-K's enrollment is determined by lottery and not all families who want a slot for their child are able to get one.
Recognizing the economic, educational, and societal benefits of early learning and access to universal pre-K, Senator Reed has worked at the federal level to increase the availability of pre-K.  Reed recently teamed up with Patty Murray (D-WA) and colleagues to reintroduce the Child Care for Working Families Act (CCWFA).  This comprehensive legislation would address the child care crisis, expand access to preschool programs for 3- and 4-year-olds, and take several steps to increase the supply of high-quality, affordable child care.
A member of the Appropriations Committee, Senator Reed has worked for over a decade to deliver federal funding that has fueled the expansion of RI Pre-K.  In 2009, Rhode Island got a $50 million Race to the Top Early Learning Challenge Grant.  In 2014, Rhode Island received a $19 million Preschool Development Expansion Grant, and in 2019, Rhode Island was awarded a $4.19 million Children and Families' Preschool Development Grant Birth through Five (PDG B-5) award that could be worth up to $8.94 million over three years, subject to appropriations.
"Access to quality, affordable child care is essential to families and to the health of our economy," said Senator Reed. "The federal government needs to step up and partner with state and local governments to share costs and give American kids a stronger, healthier start.  President Biden has offered a plan to make pre-K universal and make child care affordable to every family in this country.  And I will work hard with my colleagues in Congress to deliver the federal funding to make that possible."
"We have seen firsthand how the lack of affordable, high quality early learning and care has had a major impact on families who are trying to progress along a career pathway and attain financial stability.  Childcare is critical to the workforce and a healthy economy.  The pandemic punctuated that and I am pleased that this issue is being addressed through comprehensive legislation," said Shannon Carroll, President and CEO of the Genesis Center.
"The research is indisputable – the early years of a young child's development are unmatched throughout their lifetime. When we make significant investments in these years, such as creating infrastructure that supports working families ability to access affordable childcare…(we) increase economic growth, jobs growth, and tax revenue growth. But, there's a key phrase we must commit to if we are to realize this economic trifecta – the investments must support high-quality early childhood education," stated Dr. Susan Zoll, Associate Professor and Co-coordinator of the Institute of Early Childhood Teaching and Learning at Rhode Island College.
"The Head Start community applauds Senator Reed's work on behalf of our nation's most vulnerable children and families. Now, more than ever, it is time for our country to come together  to take care of our most precious  assets-our children-so we can build a future that is filled with racial and economic equity for all," said Mary Varr,  Executive Director of Woonsocket Head Start Child Development Association, Inc. (WHSCDA).
Elizabeth Burke Bryant, Executive Director of Rhode Island KIDS COUNT stated: "Access to high quality Pre-K should not be determined by a child's zip code or winning a Pre-K lottery – research shows that all three and four year old children would benefit from access to RI's high quality Pre-k Program that is ranked best in country for quality but 32nd for access. And as the pandemic has shown, Rhode Island's working families need high quality, affordable child care so that they can go to work knowing that their children are thriving. Access to High quality early childhood education is an urgent equity issue and these investments will improve education and economic outcomes for our State and our nation.  Thank you, Senator Reed for your leadership to bring about a true federal-state partnership to for universal Pre-K and much-needed funding for high quality child care through the American Families Plan and the Child Care is Essential Act that you have co-sponsored."