Reed Congratulates Raimondo on Commerce Confirmation & Welcomes Incoming Gov. McKee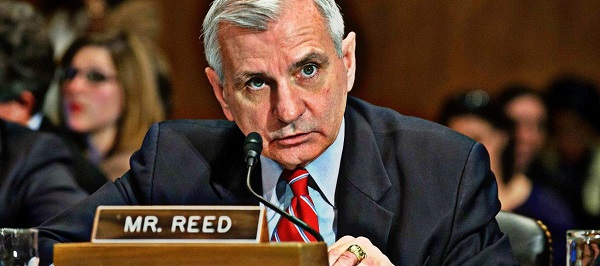 WASHINGTON, DC — The U.S. Senate voted 84-15 today to confirm Governor Gina M. Raimondo as the next U.S. Secretary of Commerce.
Incoming Secretary Raimondo will replace acting-Commerce Secretary Wynn Coggins, who previously served as Commerce Deputy Assistant Secretary for Administration, before being tapped by President Biden to lead the agency on an interim basis.
"I congratulate Secretary Raimondo. She will lead with integrity and play a critical role overseeing a wide array of key initiatives essential to our nation's future, from helping U.S. manufacturers compete to investing in economic development to managing our ocean resources. She'll build successful partnerships, bring people together, and help spur smart, sustainable economic growth," said Senator Reed.
Senator Reed also welcomed incoming Governor of Rhode Island, Daniel J. McKee, who currently serves as Rhode Island's Lt. Governor.
"Incoming Governor McKee has been working hard. He's taking on this new assignment at a critical time. I'm committed to doing everything I can to ensure Rhode Island rises to meet the challenges ahead. This week, the U.S. Senate is focused on delivering urgent and overdue pandemic relief, and I'm focused on delivering for the people of Rhode Island," continued Reed, a senior member of the Appropriations Committee, who is working with colleagues and the Biden Administration to enact a COVID-19 rescue package that will benefit the state, including by providing additional resources for state and local governments to ensure they can save lives, businesses, and people's jobs.
Last year, Senator Reed was part of a 20 person bipartisan working group that developed the CARES Act (Public Law No. 116-136). Senator Reed was the driving force behind the successful effort to create the $150 billion Coronavirus Relief Fund (CRF) in the CARES Act and successfully secured a minimum of $1.25 billion for all states in the law.
The latest COVID-19 rescue package currently advancing through Congress includes a $350 billion state and local aid package.
"I will continue working to target federal aid where it's most needed. These federal funds will help Rhode Island recover and build back stronger. While this federal assistance will help cushion the financial blow, it won't eliminate the need for tough choices or fully replace all the opportunities that have been lost during this pandemic," concluded Reed.