Reed Delivers Another $2.5 Million in Federal Housing Vouchers to Help RIers Experiencing Homelessness or At-Risk of Becoming Homeless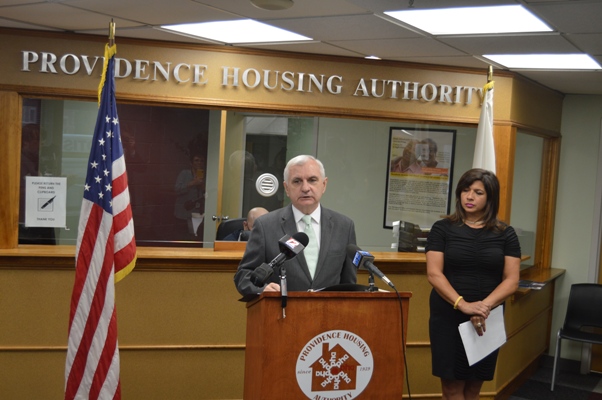 With End of Eviction Moratorium Looming, Reed Delivers Another $2.5 Million in New Federal Housing Vouchers to Help RIers Experiencing Homelessness or At-Risk of Becoming Homeless
New federal funds will provide 159 Emergency Housing Vouchers for Individuals & Families throughout RI
PROVIDENCE, RI – The U.S. Centers for Disease Control and Prevention's (CDC) eviction moratorium is scheduled to lift on June 30, and U.S. Senator Jack Reed, a leading national voice on housing policy issues, says more work must be done nationwide to prevent at-risk families from becoming homeless.
In an effort to provide safe, stable housing to more Rhode Islanders in need, Senator Reed is working with the U.S. Department of Housing and Urban Development (HUD) to deliver a new, $2.5 million allocation of federal funding to Rhode Island.  This new federal aid will provide 159 emergency housing vouchers (EHV) for people and families who are homeless; at risk of becoming homeless; or are fleeing domestic violence, dating violence, sexual assault, stalking or human trafficking.
Today, Senator Reed met with officials at the Providence Housing Authority to discuss how the new funds may be used to help Rhode Islanders in need.
The new American Rescue Plan funding is being allocated through the Emergency Housing Voucher program, which Senator Reed, a senior member of the Senate Banking, Housing, and Urban Affairs Committee, advocated for to provide housing choice vouchers to secure housing for people who are homeless or on the cusp of homelessness.  The program is administered by local public housing authorities across the country in partnership with local Continuums of Care, which help coordinate housing and services funding for homeless families and individuals.
"We must continue working together to house our most vulnerable residents and provide services and support to help lift individuals out of poverty.  There is a great need for these vouchers.  Too many of our fellow citizens are facing economic insecurity and the expiration of the eviction moratoria is likely to increase the number of people who could lose their homes.  These vouchers will help improve the well-being of individuals and communities and I will continue working to deliver federal resources to keep people safe and housed," said Senator Reed.
"We are grateful to Senator Reed for his work to establish the Emergency Housing Voucher program, which is so timely and a great opportunity to expand our work to help end homelessness in Rhode Island," said Melissa Sanzaro, Executive Director of the Providence Housing Authority. "We look forward to working together with our partners at Rhode Island Housing, the RI Continuum of Care, the state's homeless service agencies, and landlords to successfully utilize the new emergency vouchers."
The federal funds are awarded now and vouchers are slated to be available next month.  This federal funding covers the first 18 months of rental assistance.  HUD will provide additional funding on an annual basis for tenant based rental assistance in 12 month increments until EHV funding on a national basis has been exhausted.
In addition to serving on the Banking, Housing, and Urban Affairs Committee, Reed is also a senior member of the Appropriations Subcommittee on Transportation, Housing, and Urban Development Appropriations Subcommittee.  Through his committee work, Senator Reed helped successfully include an allocation of $5 billion in the American Rescue Plan nationally for these emergency housing vouchers for individuals and families who are experiencing homelessness or at risk of homelessness.  According to HUD estimates, this funding should help HUD make 70,000 housing choice vouchers available to local public housing authorities.
To date, HUD has released $1.1 billion from the $5 billion to help get people experiencing homelessness off the streets and into safe, stable homes.
Since last December, Senator Reed has delivered more than $20 million in homelessness assistance and supportive services funds for Rhode Island to develop affordable housing for families at risk of homelessness, those fleeing domestic violence, and veterans across Rhode Island, through HOME Investment Partnerships Program funds.