Reed Delivers Meals & Praise for Meals on Wheels Volunteers & Veterans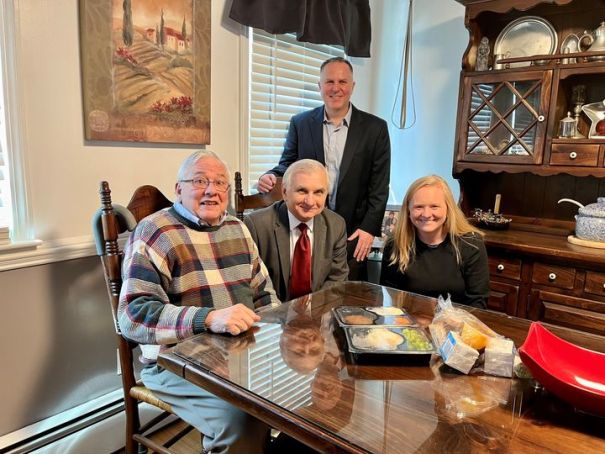 As demand for senior nutrition assistance rises, Meals on Wheels is hungry for volunteers
SCITUATE, RI – In an effort to help raise awareness about senior hunger, U.S. Senator Jack Reed joined Meals on Wheels of Rhode Island to deliver meals to senior citizens as part of the annual "March for Meals" campaign, which aims to deliver warm meals and meaningful visits to older homebound adults.
During the pandemic, Meals on Wheels of Rhode Island stepped up its output and delivered roughly 4,000 meals a day to Rhode Islanders. This year's March for Meals campaign comes at a time when eight out of ten local Meals on Wheels programs across the nation are still delivering more meals to homebound seniors than they were before the pandemic.
This morning, Senator Reed met with Meals on Wheels of Rhode Island executive director, Meghan Grady, and volunteers who prepare and deliver meals for neighbors in need before visiting the home of Mr. Richard McAuliffe, 76, in Scituate.
Mr. McAuliffe is a U.S. Army Airborne Veteran (ret. 1967), who previously worked in human resources for the Providence Journal. Mr. McAuliffe, who lost his wife of 52 years during the pandemic, became a Home-Delivered Meal Program client after experiencing mobility limitations. He receives regular visits from Meals on Wheels volunteers, providing him with vital nutrition and companionship.
"Meals on Wheels is a lifeline of nourishment and connection for folks who live alone. Meals on Wheels of Rhode Island delivers healthy food to homebound seniors with a side of friendliness and companionship. The little visits and wellness check-ins help keep seniors connected, and always bring a smile to volunteers too. Visiting a veteran like Mr. McAuliffe is the highlight of my day. He served our country and this is part of our commitment to saying thanks. For folks experiencing limited mobility, these moments of interaction can really go a long way," said Senator Reed, who today delivered a meal of veal chops with gravy prepared with mashed potatoes, carrots, wheat bread, and fresh apples.
"In 2023, we are continuing to expand our work to provide our clients with the services they need to live well-nourished lives with independence and dignity," said Meals on Wheels of Rhode Island Executive Director Meghan Grady. "We are humbled to have the continued support of Senator Reed as we highlight the growing need for our services."
Meals on Wheels of Rhode Island is a critical link in the state's network of senior nutrition programs, both congregate and home-delivered. The program's meals are delivered through 21 meal dispatch sites around the state. Meals on Wheels largely relies on federal sources of funding and local efforts to deliver food to homebound seniors in need to help them remain healthy and safe living in their own homes.
A senior member of the Appropriations Committee, Senator Reed has been recognized as a Congressional champion of the Meals on Wheels program and has led efforts to secure funding for Older Americans Act (OAA) programs, which assists Meals on Wheels with serving millions of Americans across the nation.
Founded in 1969, Meals on Wheels of Rhode Island is the only non-profit home-delivered meal program of its kind in the state. In order to qualify for Meals on Wheels services, clients must be over the age of 60, homebound, no longer driving, unable to prepare food themselves and without a qualified caregiver who prepares meals. About 80 percent of Meals on Wheels clients are classified as "low-income or extremely-low-income," according to an internal study by Meals on Wheels America.
"Organizations like Meals on Wheels do a lot of good and they are always hungry for volunteers. If folks have time and the ability to help others, whether it is preparing food or delivering it and providing a bit of social interaction, I encourage people to get involved with their community," said Senator Reed. "I will continue working hard to ensure Meals on Wheels of Rhode Island has strong federal support and that our seniors can live full, healthy, and independent lives."
People interested in applying to become a Meals on Wheels volunteer may visit: Volunteer | Meals on Wheels of RI (
rimeals.org
)