Reed Delivers Meals, Praises Volunteers, & Thanks Meals on Wheels for Providing Free Meals & So Much More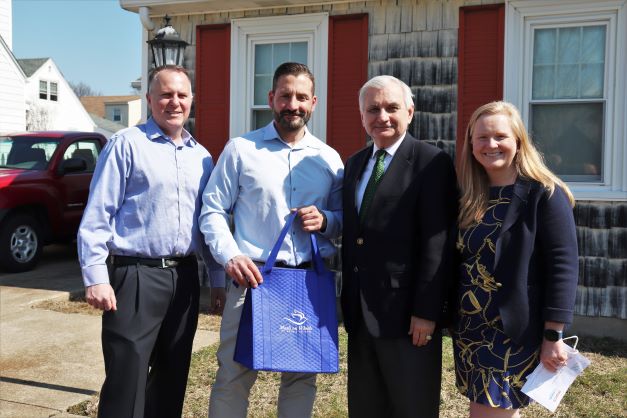 CRANSTON, RI – Today, U.S. Senator Jack Reed joined Meals on Wheels of Rhode Island in Cranston to deliver meals to senior citizens as part of the "March for Meals" campaign, which aims to deliver warm meals and safe, socially-distanced visits to older homebound adults.
This year's annual "March for Meals" honors the 50th anniversary of the Older Americans Act Nutrition Program, the federal law that provides funding for nutrition services for seniors and helps support programs like Meals on Wheels.
In 2021, Meals on Wheels of Rhode Island served over 3,000 Rhode Islanders statewide with hundreds of thousands of meals.  During the height of the pandemic, Meals on Wheels of Rhode Island delivered roughly 4,000 meals a day statewide.
Today, Senator Reed met with volunteers who prepare and deliver hot meals for neighbors in need and visited the home of Mr. Robert Bedrick, 86, at his home in Cranston. Mr. Bedrick has been a Home-Delivered Meal Program client since September 2020.  He started receiving meals after his wife of over 60 years, Sandra, passed away from breast cancer four years ago.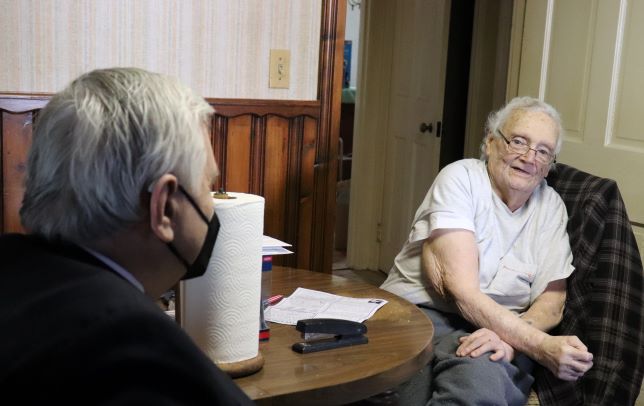 "This program goes beyond food.  It helps develop healthy bonds for volunteers and clients alike.  Meals on Wheels delivers nutrition with a side of company, conversation, and wellness.  That little bit of interaction for folks who are less mobile than they used to be goes a long way.  It's good food, but also a little safety check.  Many seniors live alone and the pandemic isolated a lot of people.  Meals on Wheels delivered when folks needed them most and it continues to make a huge difference.  This program represents the best of what we can do to care for vulnerable residents. Volunteer chefs put a lot of love into the food, and the volunteer drivers put extra care into the delivery.  It's heartwarming and special to be a part of it," said Senator Reed, who delivered delicious and nutritious meals today featuring breaded cod, brown rice, green beans, tartar sauce, cracked wheat bread, and fresh pears.
"We were thrilled to have Senator Reed join us once again in advocating for Meals on Wheels of RI and our homebound senior clients," said Meals on Wheels of Rhode Island Executive Director Meghan Grady. "The Senator has been a true partner in our vital work and we are deeply appreciative of his continued support."
Meals on Wheels of Rhode Island is a critical link in the state's network of senior nutrition programs, both congregate and home-delivered.  The program's meals are delivered through 21 meal dispatch sites around the state.  The average cost of getting each free meal prepared and delivered to a homebound senior is about $9.61.  The meals are delivered to clients chilled and can be eaten immediately or heated up later.
Meals on Wheels largely relies on federal sources of funding and local efforts to deliver food to homebound seniors in need to help them remain healthy and safe living in their own homes.
A senior member of the Appropriations Committee, Senator Reed has been recognized as a Congressional champion of the Meals on Wheels program and has led efforts to secure funding for Older Americans Act (OAA) programs, which helps Meals on Wheels serve millions of Americans nationwide.
After the pandemic hit, the COVID-19 relief bills provided a total of $1.4 billion in supplemental funding for Meals on Wheels, including $750 million in the American Rescue Plan Act.  In addition, Senator Reed helped deliver a $15 million increase in regular appropriations for Meals on Wheels in the FY2022 Omnibus Appropriations law, providing $291 million this year to help the national network of 5,000 senior nutrition programs.
Founded in 1969, Meals on Wheels of Rhode Island is the only non-profit home-delivered meal program of its kind in the state.
"We're seeing the need for home-delivered meals rise and the cost to prepare and deliver food is rising too.  So it is important for Congress to robustly fund these critical programs and work on a bipartisan basis to bring down costs for everyday essentials like food, gas, and medicine," said Reed.  "I will continue working hard to ensure Meals on Wheels of Rhode Island has strong federal support and that our seniors can live full, healthy, safe, and independent lives."