Reed Hosts U.S. Secretary of Veterans Affairs for Tour of Key RI Vet Programs & Facilities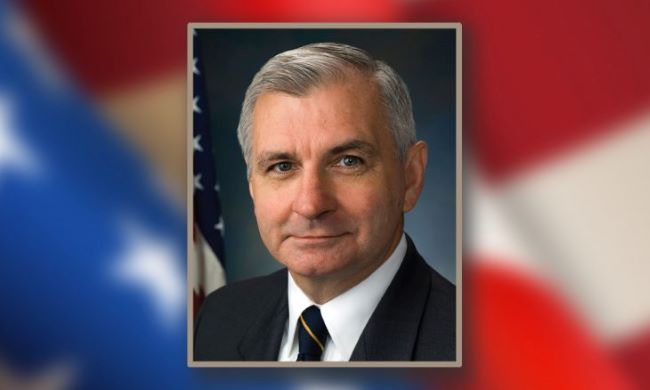 PROVIDENCE, RI – U.S. Senator Jack Reed today welcomed U.S. Department of Veterans Affairs (VA) Secretary Denis McDonough to Rhode Island for a series of meetings with local veterans, support organizations, and VA professionals.  Their engagements focused on meeting with the workers and employees providing Rhode Island veterans with the care, benefits, and services they earned.
"I was pleased to join Secretary McDonough today to meet with some of Rhode Island's finest – our courageous veterans. We have heard from organizations that support veterans about how we can work together to improve services and outcomes," said Senator Reed, the Chairman of the Armed Services Committee, who served in the U.S. Army after graduating from West Point. "Secretary McDonough is a dedicated public servant who I've known since his time as a congressional staffer focused on foreign policy and advising former Senate Majority Leader Tom Daschle. I'm pleased to work with him now as he leads the Biden Administration's efforts to provide high-quality care and benefits for our nation's veterans. Today's sessions gave us numerous takeaways that we can bring back to Washington and continue to build on for the benefit of Rhode Island's veterans."
Senator Reed and Secretary McDonough began their tour of the Ocean State with a tour of Operation Stand Down Rhode Island (OSDRI), where they saw first-hand how the organization is working to support veterans experiencing homelessness and provide other legal and support services for at-risk veterans.
Under the direction of Secretary McDonough, ending veteran homeless is a priority for the VA. The department is on track to meet its goal of housing 38,000 homeless veterans this year. OSDRI is a key local partner in this effort. The organization helps Rhode Island veterans to secure stable housing, employment, basic human needs, and legal and benefit assistance.
Following the tour of OSDRI, Senator Reed and Secretary McDonough met with medical professionals, staff, and patients at the Providence VA Medical Center. Through a series of meetings and discussions, the group highlighted latest efforts to increase access and improve outcomes for veterans in need of VA care and services.  Last Congress, Senator Reed supported and helped to pass the PACT Act, the largest expansion of access to VA healthcare and benefits in recent history.  Secretary McDonough is now overseeing the implementation of the law.
A Minnesota native, McDonough previously served as White House chief of staff under President Barack Obama.  Following his time with the Obama Administration, McDonough worked for the Markle Foundation, focusing on employment and job training for Americans, before he was tapped by President Joe Biden to helm the VA.  He was confirmed as U.S. Secretary of Veterans Affairs with the support of 87 U.S. Senators in February of 2021.
As the head of the VA, McDonough is responsible for caring for some 9 million veterans nationwide, including some 800,000 aging Vietnam War veterans.  The VA employs more than 377,000 people and supports 170 medical centers and more than 1,000 outpatient sites nationwide.