Reed Pays Tribute the Life & Legacy of Madeleine Albright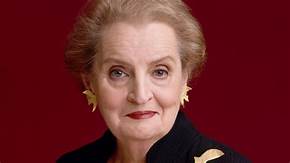 WASHINGTON, DC – Following the passing of Madeleine Albright, the 64th U.S. Secretary of State, and the first woman in American history to hold that title, U.S. Senator Jack Reed (D-RI), Chairman of the Senate Armed Services Committee, issued the following statement:
"Madeleine Albright will be remembered as one of America's greatest diplomats.  She was a consummate problem solver and bridge builder, and a gifted communicator.
"Secretary Albright not only made empowering women central to American foreign policy, she inspired an entire generation of young women leaders to pursue careers in government and diplomacy.
"Her national service didn't end when she left her diplomatic post.  For decades after she continued to serve as wise counsel to presidents, lawmakers, and world leaders who turned to her for insight and advice.  And she continued to write and teach and her example will continue to inspire and sustain us.
"I offer my deepest condolences to her family, who have lost a wonderful mother, grandmother, sister, aunt, and friend.
"America is fortunate to have benefitted from Madeleine Albright's trailblazing life and leadership.  We are saddened by her loss, but grateful for her many contributions to our nation."