Reed Statement on Yellen Nomination as Treasury Secretary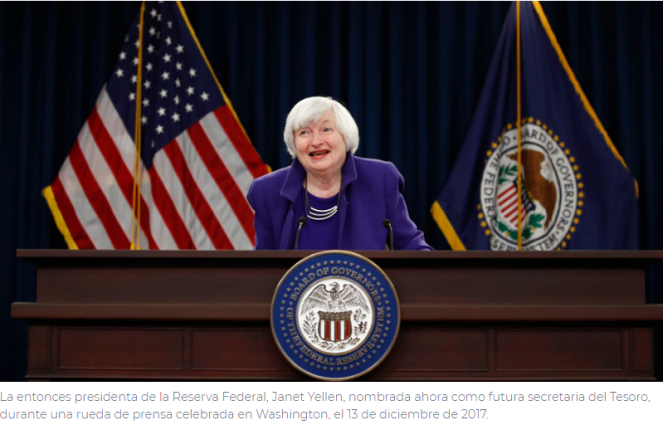 WASHINGTON, DC — Today, U.S. Senator Jack Reed (D-RI), a senior member of the Senate Banking Committee, issued the following statement on President-elect Biden's nomination of former Federal Reserve Chairwoman Janet L. Yellen to serve as Treasury Secretary:
"This is a brilliant, historic nomination of a brilliant, historic woman. Janet Yellen is not only the first woman nominated for this post, she is, without a doubt, among the most experienced, accomplished, and well-qualified people in American history to be selected to lead the U.S. Treasury.
"When she is confirmed, she will have achieved an unprecedented trifecta of U.S. economic policymaking as the first person to serve in the three key roles of chief White House economist, Chair of the Federal Reserve, and Treasury Secretary.
"America will need her unparalleled experience as we face dire, unprecedented economic challenges in the midst of a public health emergency that is still being mismanaged by the Trump Administration. The Trump economy has left America with job losses piling up, small businesses closing down, and long lines at foodbanks nationwide stretching for blocks and blocks. Trump's mishandling of the pandemic, tax giveaways to the wealthiest, and undisciplined trade wars continue to be disastrous. And now, with a pandemic still raging, a wave of evictions and foreclosures is looming on the horizon without additional fiscal relief. If the United States doesn't change course, we could face an economic recession that is unnecessarily longer, deeper, and more painful.
"We must reboot and rebuild an economy that has been left in tatters and focus particularly on those families who've been hit hardest and continue to be hit by this Trump downturn.
"Janet Yellen is the right person to help safely guide America's economy through this crisis. Her steady hand at the helm of Treasury can help navigate through rough seas and uncharted waters. As Fed Chair, she helped steer the economy through a period of economic expansion and job growth without the dangerous levels of uncertainty constantly created by President Trump and his reckless Administration. I believe she can help our country do it again.
"With infection rates soaring, both public health and our economy are at risk. It is imperative that Janet Yellen's nomination be given a fair hearing without partisan delay. This nominee is critical to the fortunes of all Americans and the nation's future prosperity. I will work with her to ensure U.S. fiscal policy helps Rhode Island workers, boosts small businesses, and leads to strong, sustainable growth."
Senator Reed also noted that Janet Yellen spent some of her formative years in Rhode Island, where she graduated summa cum laude from Brown University with a degree in economics in 1967 before going on to receive her Ph.D. in Economics from Yale University in 1971.