Reed, Whitehouse, & Cicilline Deliver $500,000 for Tiverton Public Safety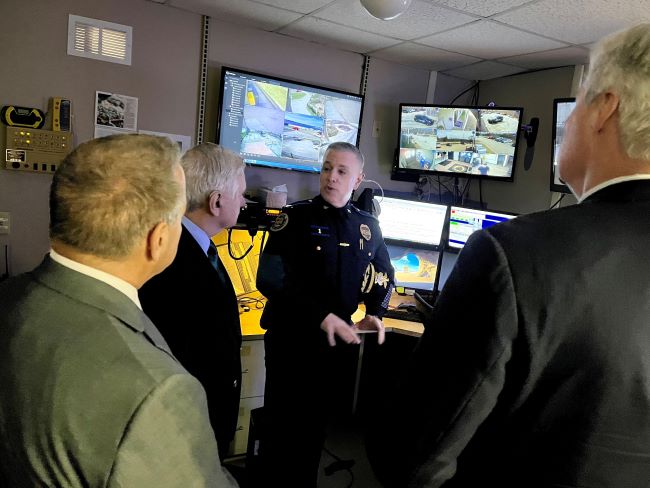 TIVERTON, RI – The ability to communicate and coordinate is essential when responding to emergencies, and Rhode Island's first responders deserve the best tools available to serve and protect our communities. To boost emergency response and enhance public safety for Tiverton residents, U.S. Senators Jack Reed and Sheldon Whitehouse and Congressman David Cicilline teamed up today to deliver a new $500,000 federal earmark for the Tiverton Police Department.
Tiverton's emergency call center received more than 35,000 calls last year. This federal earmark will help fund the town's Public Safety Communications Project, which includes upgrading the Department's communications equipment and installing a new emergency dispatch console. The current communications system, which is utilized by the town's police, fire, and EMS personnel, is becoming more difficult to repair. The new, state-of-the-art equipment for the police station will also allow for the integration of Tiverton's Department of Public Works communications, allowing for more efficient collaboration when responding to situations like flooding, winter storms, downed trees and debris, and other roadway obstructions. 
Today, Senators Reed and Whitehouse and Congressman Cicilline joined Police Chief Patrick Jones and Town Administrator Chris Cotta for a tour of the Tiverton Police Station. During the tour, members of the delegation were able to see the current communications system and get a look at where the upgraded emergency communications equipment and new dispatch console will go.
"Each time our police officers respond to an emergency, they carry a vital responsibility to serve, protect, and help keep our communities safe. Communication is a key tool in making sure that responses are coordinated and keeping officers safe in the line of duty," said Senator Reed "This federal funding will provide Tiverton officers with the up-to-the-second information they need. I'm glad that Senator Whitehouse, Congressman Cicilline, and I could answer their call for backup and secure this earmark for new communications equipment."
"The entire community benefits when our first responders have the tools to do their jobs safely and effectively," said Senator Whitehouse.  "I am pleased to join Senator Reed and Congressman Cicilline in securing much-needed equipment upgrades for the hardworking Tiverton police and fire departments."
"Clear, efficient, reliable communication is the base of public safety, and it is especially important in a rural, coastal community, like Tiverton. This $500,000 investment will enable Tiverton to upgrade its emergency communications system, which is over a quarter of a century old," said Congressman Cicilline. "The new upgrades will mean that the Tiverton Police, Fire, EMS, and Public Works communications systems are integrated and have an interoperable radio communication network for town-wide public safety use – which is vital for efficient and effective communication during emergencies, especially severe weather events. This investment will help keep residents, visitors, and frontline personnel safe for years to come. I commend Chief Jones and the Town of Tiverton for undertaking this effort and am proud to have worked with Senators Reed and Whitehouse to deliver the federal funds to support their work."
"Our deepest thanks to Senators Reed, Whitehouse and Congressman Cicilline on behalf of all of Tiverton's Public Safety professionals in providing this funding.  It is perfectly timed that this award is being presented during the week honoring the work and dedication of emergency dispatch personnel nationwide," said Tiverton Police Chief Patrick Jones. "These funds will provide a state of the art working environment for our dispatchers and greatly improve the communications between our police officers, firefighters, paramedics, public works personnel and the citizens they serve."
According to the Tiverton Police Department, installation of the new equipment is expected to begin shortly and be completed by the end of this year.