Rep. Diaz presents Blue Light Award to Dr. Tracey Taveira, Lifespan Community Health Institute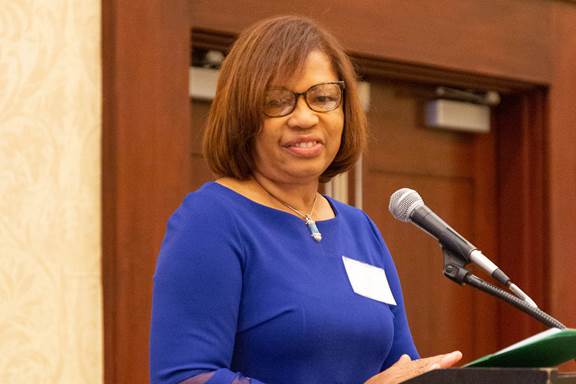 STATE HOUSE — Rep. Grace Diaz (D – Dist. 11, Providence) marked World Diabetes Day today to spread awareness about the effects and prevention of diabetes.
The event, which is hosted in cooperation with Healthcentric Advisors and other local partners, saw Representative Diaz presenting the Grace Diaz Blue Light Award. Every year the award is presented to an individual or organization that has made a positive difference in diabetes prevention and care in Rhode Island. This year, the award was presented to both an individual, to Dr. Tracey Taveira, and an organization, Lifespan Community Health Institute.
The chairwomen of the World Diabetes Day Committee, Deborah Newell, RPH, and Megan Fallon-Sheridan, MS RD, worked with the entire committee to bring more than 300 individuals, professionals, and more than 20 agencies to the event.
Diabetes is growing at an epidemic rate in the United States. Nationwide, more than 30 million Americans have diabetes according to the American Diabetes Association and Centers for Disease Control and Prevention. The annual event is an opportunity to increase awareness about diabetes as a potentially devastating disease both locally and nationally. Ultimately, the event seeks to empower people to manage their own health while living with diabetes and pre-diabetes.
Dr. Taveira is a nationwide leader in diabetes care. She is an active member of the American Diabetes Association Scientific and Medical Program Committee, the Chair for the American Diabetes Association Cardiovascular Interest Group, and former member of the American Diabetes Association Professional Practice Committee. While Dr. Taveira is recognized nationally for her expertise in providing care to patients with diabetes and cardiovascular complications, she also practices in Rhode Island through a clinical and research appointment with the Department of Veterans Affairs Medical Center. Her passion for diabetes education extends beyond her patient visits. Dr. Taveira regularly teaches and presents to diabetes educators throughout the state at annual continuing education opportunities. She is also a Professor of Pharmacy at the University of Rhode Island and Adjunct Professor of Medicine at Brown University.
The Lifespan Community Health Institute coordinates hundreds of programs, events, and community service activities that serve between 25,000 and 30,000 southern New Englanders annually. Programs, such as the National Diabetes Prevention Program, are often offered free or at a reduced cost to the community. Since 2017, the Lifespan Community Health Institute has offered 60 National Diabetes Prevention Program cohorts, serving nearly 200 participants with prediabetes or high diabetes risk.
Representative Diaz said it's important to shed light on the growing number of minority groups affected by the disease.
"As a former diabetes educator, I am aware of the struggle many of these patients go through when they are diagnosed with Type 1 or Type 2 diabetes," the representative said. "I am also aware of the growing problem in our minority communities, where information about the effects of this disease may not be as accessible as it should be. I am hoping this event will change that, and give people an opportunity to learn about support opportunities and prevention."
Diabetes is a chronic, life-threatening illness that affects about 20 million Americans and more than 106,000 Rhode Islanders, according to the state Department of Health. Type 1 diabetes occurs when the body cannot produce hormone insulin. The more common Type 2 is defined as the body's inability to produce or use insulin efficiently. Both types are marked by high levels of blood sugar.
World Diabetes Day (WDD) is celebrated every year on Nov. 14 in order to keep the terrible illness in the public spotlight. World Diabetes Day became an official United Nations Day in 2007.