Rep. Felix selected as one of nation's outstanding rising leaders by national organization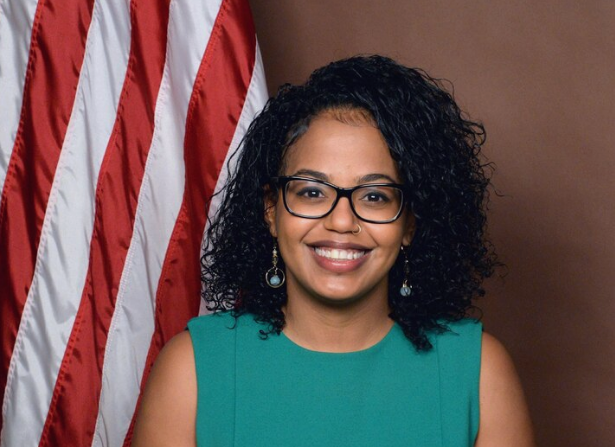 STATE HOUSE — Rep. Leonela "Leo" Felix (D-Dist. 61, Pawtucket) was selected as one of 19 leaders from across the country to join the NewDEAL (Developing Exceptional American Leaders), a selective national network of state and local elected officials.
 Representative Felix joins the group at a time when state and local leaders are on the frontlines of responding to the pandemic and as they take on a critical role in implementing the American Rescue Plan recently signed by President Biden. The new law will send hundreds of billions of dollars to state and local governments. NewDEALers are supporting each other in addressing the many challenges created and exacerbated by COVID-19 by innovating, convening virtually, and sharing good ideas.
Members of the nearly 200-person network are working to enact pro-growth progressive solutions in a diverse array of communities. They have been chosen from more than 1,650 nominations over its decade-long history.
 Representative Felix and her peers in the new class of leaders were recognized for their unwavering commitment to expanding opportunity as they work to build back better in their communities and reject the idea that policymakers can or should want to turn the clock back to a prior era. These leaders' work will build on policy recommendations that NewDEAL Leaders help develop, including the release of reports on education and climate change, as well as recommendations from the NewDEAL Forum Renewing American Task Force, which has provided guidance for state and local leaders to address affordable housing, child care, broadband access, entrepreneurship, mass transit, and the social safety net.
 "Our nation's communities face a historic moment of challenge, and it is a humbling and energizing time to be a new state representative," said Representative Felix. "As I continue to advocate for the long-term economic security of Rhode Island's working families, the NewDEAL network will help strengthen my work. I am excited to share ideas with leaders from across the country and learn from successful elected officials who are fighting to expand opportunities for our nation's families."
 First elected to the House of Representatives in 2020, Felix was selected to join NewDEAL because of her dedication to supporting Rhode Island's working families and reforming the state's criminal justice system. One of Felix's key initiatives tackled problems with Rhode Island's parole and probation and was incorporated into Governor McKee's annual budget proposal. Her program introduced a system of credits earned through good behavior and participation in vocational or academic education. Her legislation both reduces people's sentences and the workload of probation officers, streamlining this process and easing reentry after incarceration or court involvement. Representative Felix works for the City of Providence on municipal ethics and public records requests and previously served as the policy director at Progreso Latino, a leading advocacy organization for Rhode Island's Latinx and immigrant communities and as a member of the Rhode Island Commission for Health Advocacy and Equity.