Rhode Island ARPA Support Grant Awardees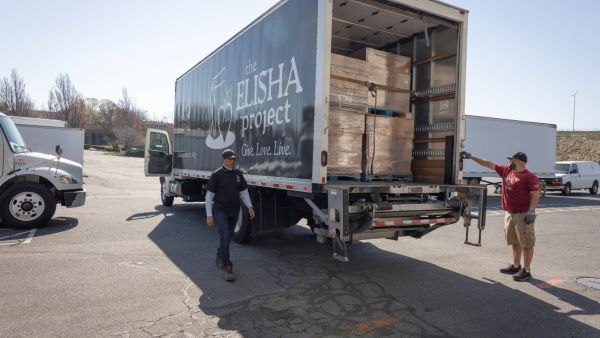 The Rhode Island Foundation, Governor McKee, the General Assembly, and the Rhode Island Pandemic Recovery Office jointly established the Rhode Island ARPA Support Grant program in 2022 to distribute funding from Rhode Island's $1.1 billion share of the federal American Rescue Plan Act allocation for COVID-19 recovery.
This program, established with $20 million from the Coronavirus State and Local Fiscal Recovery Funds (CSLFRF) program, a part of the American Rescue Plan Act (ARPA), was designed to assist Rhode Island-based nonprofits negatively impacted by COVID-19 that deliver services to address food insecurity, housing issues, homelessness, and behavioral health needs.
The $20 million awarded by the Foundation over a six-month period to 240 nonprofits is the single largest pool of grants in our 107-year history.
Following are the Rhode Island ARPA Support Grant awardees.
134 Collaborative
Access To Recovery, Inc.
Adoption Rhode Island
African Alliance of Rhode Island
Aids Care Ocean State
Aldersbridge Communities
Alliance for the Organization of Our Resistance
Amenity Aid
Amos House
Aquidneck Community Table
Arc of Bristol County
Barrington Tap-In, Inc.
Be The Change/Project Hand Up
Beautiful Day
Berean Baptist Church
Better Lives Rhode Island
Big Brothers Big Sisters Of Rhode Island
Blackstone Valley Advocacy Center
Blackstone Valley Community Action Program
Block Island Health Services
Boys & Girls Club of Newport County
Boys & Girls Club of Pawtucket
Boys & Girls Clubs of Northern Rhode Island
Boys & Girls Clubs of Providence
Boys & Girls Clubs of Warwick
Boys Town New England
Building Futures
Call Off Your Old Tired Ethics Rhode Island
Camp Ruggles, Inc.
Capital City Community Centers, Inc.
CareLink, Inc.
CartwheelRI
Center for Health and Justice Transformation
Center for Southeast Asians
Center of Praise Church of God
Central Falls Children's Foundation
Central Falls Family Self Sufficiency Foundation
Centro de Innovacion Mujer Latina
Chariho Youth Task Force
Child & Family
Children's Friend and Service
Church Community Housing Corporation
Church of God
Clinica Esperanza/Hope Clinic
Coastline EAP d.b.a RI Student Assistance Services
CODAC Behavioral Health
College Visions
Commercial Fisheries Center of Rhode Island
Communities for People, Inc.
Community Action Partnership of Providence County
Community Baptist Church
Community Blessings Foundation
Community Care Alliance
Community Health Innovations of Rhode Island
Community Housing Resource Board / Housing Hotline
Comprehensive Community Action Program
Conexion Latina Newport
Connecting for Children and Families
Cowden Street Collaborative dba The Segue Institute for Learning
Crossroads Rhode Island
DaVinci Center for Community Progress
Day One
Direct Action for Rights and Equality
Domestic Violence Resource Center of South County
Dorcas International Institute of Rhode Island
Dr. Martin Luther King Jr. Community Center
East Bay Community Action Program
East Bay Food Pantry, Inc.
Elisha Project
Elizabeth Buffum Chace Center
Esperanza-Hope
Family Service of Rhode Island
Farm Fresh Rhode Island
Federal Hill House Association
Foster Forward
Friends of Rhode Island CASA, Inc.
Friends Way, Inc.
Galilee Mission, Inc.
Gateway Healthcare, Inc.
Gather Together United As 1
Genesis Center
Girls on the Run Rhode Island
Good Neighbors Inc.
Greater Love Outreach Ministries
Green and Healthy Homes Initiative
Habitat for Humanity of Rhode Island – Greater Providence
Harmony Hill School
Haus of Codec
Help the Homeless RI
Higher Ground International
Holy Family Home for Mothers and Children
Hope & Main
Hopehealth Hospice & Palliative Care
Horizon Healthcare Partners
House of Compassion
House of Hope Community Development Corporation
Housing Network of Rhode Island
Integrated Healthcare Partners
Interfaith Counseling Center
J. Arthur Trudeau Memorial Center
James L. Maher Center
Jamestown Community Farm, Inc.
Jewish Collaborative Services
John Hope Settlement House
Jonnycake Center of Peace Dale
Jonnycake Center of Westerly
Joy Fellowship Assembly of God
Justice Assistance
Lighthouse Community Food Pantry
Lime Rock Baptist Church Food Pantry
Little Compton Community Center
Little Compton Food Bank
Little Flower Home Inc
Living Hope Assembly Of God
Loaves & Fishes Rhode Island
Looking Upwards, Inc.
Lucy's Hearth
MAE Organization, Inc.
Man Up, Inc
MAP Behavioral Health Services, Inc
Maranatha Community Outreach Services, Inc.
Mathewson Street United Methodist Church
McAuley Ministries
Meals on Wheels of Rhode Island
Medicine Horse
Mentor Rhode Island
Mothers Against Drunk Driving
Mount Hope Community Center
Movement Ground Farm
NeighborWorks Blackstone River Valley
New Beginnings Inc
New Bridges for Haitian Success
New Englanders Helping Our Veterans
New Urban Arts
Newman Congregational Church
Newport Community School
Newport Mental Health
Nonviolence Institute
Norman Bird Sanctuary Trust
North Kingstown Food Pantry
Northern RI Food Pantry
Oasis International, Inc.
Olneyville Neighborhood Association
Omni Development Corporation
ONE Neighborhood Builders
Onward We Learn
Open fArms Retreat
OpenDoors
Operation Stand Down Rhode Island
PACE Organization of Rhode Island
Parent Support Network of Rhode Island
Pawtucket Central Falls Development Corporation
Pawtucket Housing, Inc.
Pawtucket Soup Kitchen
Peace Dale Dinner Table / Peace Dale Church
Pocasset Pokanoket Land Trust Inc.
Progreso Latino, Inc
Project Weber/RENEW
Providence Assembly of God Inc.
Providence Children and Youth Cabinet
Providence Children's Museum
Providence Community Opportunity Corporation
Providence Downtown Improvement District
Providence Student Union
Refugee Development Center
Rhode Island Association for Infant Mental Health
Rhode Island Center Assisting those in Need
Rhode Island Center for Justice
Rhode Island Coalition Against Domestic Violence
Rhode Island Coalition to End Homelessness
Rhode Island Communities for Addiction Recovery Efforts
Rhode Island Community Food Bank
Rhode Island Food Policy Council
Rhode Island for Community & Justice
Rhode Island Free Clinic
Rhode Island Legal Services, Inc.
Rhode Island Parent Information Network
Rhode Island Public Health Institute
Rhode Island Rescue Ministries
RI Healthy Schools Coalition
Sargent Rehabilitation Center
Shri Service Corps
Silver Lake Community Center, Inc.
SKHA Services & Development Corp.
Society of St. Vincent de Paul Rhode Island
Sojourner House
South County Habitat for Humanity
South County Home Health
Southern Rhode Island Volunteers
Southside Community Land Trust
Special Olympics Rhode Island
Spirit of Hope
St. Mary of the Bay Food Pantry
St. Mary's Home for Children
St. Patrick's Food Pantry
St. Peter's & St. Andrew's Food Pantry
Strategic Prevention Partnerships
Substance Use and Mental Health Leadership Council of RI
SunRise Forever, Inc.
SWAP, Inc.
The Autism Project
The Boys & Girls Club of East Providence
The Frank Olean Center, Inc.
The Groden Center
The Herren Project
The Historic Metcalf Franklin Farm Preservation Association
The Milagros Project
The Ocean Community YMCA
The Providence Center
The Providence Community Health Centers, Inc
The Providence Village of Rhode Island
The Salvation Army
The Samaritans, Inc.
Thrive Behavioral Health
Thundermist Health Center
Tides Family Services
Tri-County Community Action Agency
Turning Around Ministries, Inc.
Urban Greens Food Co-op
VICTA Life
Visiting Nurse of HopeHealth
VNA of Care New England
WARM Center
Washington Park Citizens' Association, Inc.
We Share Hope
West Elmwood Housing Development Corp
West End Community Center
West Warwick Senior Center
Westbay Community Action
Women's Refugee Care
Women's Resource Center
Wood River Health Services
Woonasquatucket Valley Community Build dba the Steel Yard
YANA
YMCA of Greater Providence
YMCA of Pawtucket Inc.
Youth In Action
Youth Moving Forward Mentor and Resource Center
Youth Pride, Inc.
YWCA Rhode Island